ONLINE AUCTION SALE FOR THE
ESTATE OF TIM BATTE
AND LOCAL CONSIGNMENTS
TIMED ONLINE ONLY BIDDING

Items Located At
Base Equipment

Timed Online Only Bidding
Will Start Closing On
Wednesday, November 3rd 2021 @ 9:00 Am.

Selling Road Tractors, Trucks,
Trailers, Combines, Farm Tractors,
Farm Equipment, Industrial Equipment,
Lawn & Garden Equipmentand Shop Tools.
Also Selling A 200 Acre Bush Lot
On Manitoulin Island For The Estate!
VIEW THIS GALLERY AS A SLIDE SHOW
1 or MorePhotos Added Mon Oct 25 15:12:41 EDT 2021
ROAD TRACTORS & PICKUP Trucks
: 1997 KENWORTH W900L w/ SLEEPER; 2000 INTERNATIONAL 9200 DAY CAB; 1999 INTERNATIONAL 9200 DAY CAB; 2000 FREIGHTLINER FL70 w/ GRAIN BOX; 2006 CHEVY 2500HD 4WD; GMC 2500 4WD W/ PLOW & SANDER.
TRAILERS
: 2015 CROSS COUNTRY LIVE BOTTOM; 2006 TITAN END DUMP; THREE 1994 WILSON 53FT LIVESTOCK; 2018 GREAT DANE 53FT STEP DECK; 1990 LOAD KING B TRAINS; 2010 TIMPTE 3 AXLE GRAIN; 2007 DOONAN 53FT STEP DECK; 2007 GREAT DANE REEFER; 2003 LOAD KING 53FT STEP DECK W/ SIDE CURTAINS; 2016 TIGER WORK/WELDER; 1999 CORN PRO 5FT WHEEL 16FT LIVESTOCK; 1990 MILLER 53FT STORAGE; UTILITY 53FT STORAGE; 2003 MANAC 3 AXLE DUMP; 2006 TRAIL KING 20T; 2008 LOADSTAR 30FT; 2017 CANADA TRAILER 6X12 UTILITY; 1995 WELLS CARGO 20FT ENCLOSED; VANEYL 5TON DUMP; TWO 40FT SEA CONTAINERS; BIG TEX 14FT DUMP; LOAD MAX 24FT 5TH WHEEL.
FARM TRACTORS
JOHN DEERE
: 7410 4WD CAB DUALS; 7210 4WD CAB DUALS; 6125R 4WD CAB; 4066R 4WD CAB LDR; 3038E 4WD LDR; 3033R 4WD CAB; 5420 4WD LDR; 4240 2WD CAB; TWO 5055E 4WD LDR; 6110 4WD LDR; 7410 4WD CAB LDR; 6320 4WD CAB LDR; 4640 2WD CAB DUALS; 1025R 4WD LDR MOWER; 955 4WD LDR; 950 2WD LDR; TWO 6420 4WD CAB LDR; 3039R 4WD CAB LDR;
NEW HOLLAND & FORD
: T5060 4WD LDR; 8240 4WD CAB; TV140 4WD CAB LDR; TM165 4WD CAB; TS110A 4WD LDR; TN55D 4WD CAB; TC40D 4WD LDR; TWO TN75SA 4WD CAB; TS90 4WD LDR; TD80D 4WD CAB LDR; TW15 4WD CAB;
KUBOTA
: L4760 4WD CAB LDR; L4630 4WD CAB; L4060 4WD CAB LDR BACKHOE; B7800 4WD LDR; B2100 4WD MOWER;
CASEIH
: MAXXUM 125 4WD CAB LDR; 7120 4WD CAB DUALS; 5250 2WD CAB; 3294 4WD CAB; 2096 2WD CAB DUALS; 966 2WD CAB; 766 2WD CAB; 986 2WD CANOPY;
MASSEY FERGUSON
: 5455 4WD CAB; 5445 4WD CAB LDR; GC2300 4WD MOWER; OTHERS: AGCO 5670 4WD LDR; McCORMICK MTX125 4WD CAB DUALS.
CONSTRUCTION AND INDUSTRIAL
EXCAVATORS
: JD 27D.
BACKHOES
: TWO JD 310SJ 4WD CAB.
DOZERS
: CASE 550 CAB w/ 6 WAY BLADE.
TRACK LOADERS
: JD 323D CAB; JD 333E CAB; BOBCAT T650 CAB; TWO CASE TV380 CAB; CASE TR270 CAB; CAT 299D CAB; TWO KUBOTA SVL75-2 CAB; NH C238 CAB; THREE TAKEUCHI TL8 CAB; TAKEUCHI TL10 CAB; TAKEUCHI TL230 CAB; TEREX PT30 CAB.
SKID STEERS
: BOBCAT S650; BOBCAT S450 CAB; JD 326D; NH L170 CAB; NH LS160; CAT 262C; CAT 247B; CAT 262; GEHL 5240 CAB; GEHL 4840 CAB; GEHL 4840; GEHL 4835SXT.
WHEEL LOADERS
: KOMATSU WA100M; NH W80B.
GRADERS
: CHAMPION 740A.
SKIDDERS
: GARRETT CAN-CAR.
HARVESTING EQUIPMENT
: JD 9600 COMBINE 4WD DUALS; JD 9500 COMBINE 4WD; JD 930F FLEX HEAD AIR REEL; JD 922 FLEX HEAD AIR REEL; TWO JD 843 8 ROW CORN HEADS; J&M 525 GRAIN BUGGY; MCKEE 500 GRIAN BUGGY; KENZIE GRAIN BUGGY; J&M GRAIN BUGGY; GERBER V-BOX & WAGON; J&M V-BOX & WAGON; WESTFIELD 80-51 GRAIN AUGER; TEN FORAGE WAGONS; TWO DERYNCK GRAVITY WAGONS; TWO JBM T1200 DIRT BOSS DUMP TRAILERS; MORTON NC320 DUMP TRAILER; FOUR HEADER WAGONS.
TILLAGE EQUIPMENT
: KONGSKILDE STONEBEAR SB5200 ROCK PICKER; CASE 3900 DISC; JD 230 DISC; MF 520 DISC; WHITE 271 ROCK FLEX DISC; BRENT RIPPER; JD 24FT CULT; JD 1710 SOIL SAVER; KUHN 5NS 5F PLOW; KVERNELAND BB115 5F PLOW; CIH 7500 5F PLOW; MISC QUANTITY OF 3F TO 6F PLOWS; 10FT LAND LEVELER.
HAYING EQUIPMENT
: JD 458 RD BALER NET; JD 466 RD BALER; VERMEER 604N RD BALER; GEHL 2580 RD BALER; TWO FORAGE KING BALE BASKETS; MISC WAGON UNDERCARRIAGES; 5 TON WAGON UNDERCARRIAGE.
PLANTING EQUIPMENT
: JD 7000 6ROW CORN PLANTER; TWO JD 750 NO-TILL DRILLS; JD 1535 DRILL; SMYTH XS32 32FT LAND ROLLER; SMYTH VS28 28FT LAND ROLLER.
MISCELLANEOUS
: KUBOTA RTV900 UTILITY VEHICLE; 2008 ARGO AVENGER 8X8 UTILITY VEHICLE; POLARIS 500 ATV; SEVERAL KUBOTA ZD1511 ZERO TURN MOWERS; JD 49 BACKHOE; 2006 SATURN VUE; GLASTRON FISHING BOAT w/ 90HP MERCURY; TWO HARDI 500g SPRAYERS; TWO TORO 580D TRI-PLEX MOWERS 4WD; TORO 4000D TRI-PLEX MOWER 4WD; BAD BOY ZT ZERO TURN MOWER; NORWOOD LM29 SAWMILL W/ 18FT TABLE WHEEL; JD 345 LAWN TRACTOR; WINDPOWER 42/25 PTO GENERATOR; GENERAC 5500XL GENERATOR; MAGNUM 4000 PRESSURE WASHER; FOREST KING 25T WOOD SPLITTER; QUANTITY OF STEEL BINS; QUANTITY OF I-BEAM; MISC SHOP TOOLS; TOOL BOXES; STEEL CRATES.
You Must Register To Bid Online.
To View Catalogue When Available,
To Register And To Bid Visit
PROXIBID.COM
FOR PHOTOS AND SALE LISTING CHECK OUT
www.proxibid.com
* NO IN PERSON BIDDING! *
Sale List subject to additions & deletions!
For more information please contact
Brindley Auction Services Ltd @ 519-529-7625
For Additional Pictures Please check our website
www.brindleyauction.com
or
www.theauctionadvertiser.com
TERMS
Wire Transfer, Cash Or Cheque With Proper Id.
No Credit Cards. No Debit Machine.
5% Buyers Premium
With A Max Of $1,000 Per Item
For Timed Online Bidding Through
www.proxibid.com
Owner Or Auctioneer Not Responsible
For Accidents, Loss, Or Injury
During And After The Auction Sale
All Verbal Announcements Take Precedence
Over Written Material
Preview Of Items
Can Be Conducted In Person
At Base Equipment Auction Site
Starting Oct 25th
Preview Times Are As Follows
Monday To Friday 10:00am To 4:00pm
Wednesday November 03 2021
BIDDING OPENS AS NOTED BELOW
Jacob Auction Yard
185 Herbert Street
Mitchell, Ontario

Click above for Road Map Detail!
Get directions and travel time from the Google map.

Click here for Weather!
Annual Fall Equipment Consignment Auction
Online Auction of Farm and Construction Equipment,
Trucks, Trailers, Feed, Barn and Livestock Equipment,
Shop Tools, Lawn and Garden,
and Farm Related Miscellaneous

Auction Begins to Close
Wednesday November 3 at 5:00 PM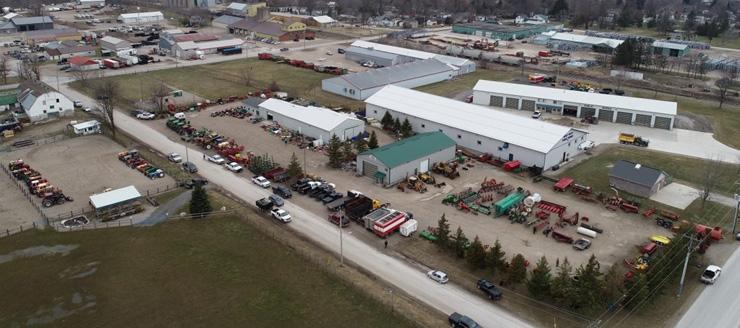 Selling for the Estate of Eldon Westman of Kirkton: AC 190 diesel, 2rem; Ferguson 35 (cream colour); AC WD45, 2 rem, 6 volt; AC WD45 12 volt; AC D15 gas, single rem; AC CA (not complete); Ferguson 2F plow
Early Consignments
Tractors: JD 6420 MFWD w/cab, loader (6500hrs); CIH 9230 Steiger 12sp powershift, 4 rem (7700hrs); JD 7410 MFWD w/JD 740 loader, cab, air (10000hrs, eng. rebuilt@8500hrs); Ford 8970 MFWD, Cab, 4 Rem (2350hrs); JD 2950 2WD w/cab (6000hrs); NH T6020 MFWD w/cab and loader; NH TN85A MFWD w/loader; McCormick MC90 MFWD, cab, 3 rem, (approx. 4000hrs); Case 1370 w/cab (5000hrs, trans. issue); JD 2350 w/loader; White 2-60 (2380hrs); Universal 530 4WD w/loader; MF 135 diesel; IH 686 diesel; IH B275 diesel w/loader; JD 820 diesel; Cockshutt 1755 diesel, restored (500hrs on rebuilt eng); JD 70 diesel; Cockshutt 550 gas; JD 2010 gas; McCormick-Farmall Cub w/scuffler and plow; IH W4; Following are not running: AC WD45; 2-Ford 8N; Ford 2N; Ferguson

Payloader: 1998 Fiat Allis FW130 payloader

Combine and Heads: CIH 2188 2WD combine (3800sep hrs); CIH 1020 25ft flex head w/air reel; JD 930 30ft flexhead; CIH 1083 8R-30 corn head; JD 843 8R corn head; CIH 3206 6R corn head w/poly, single point, auto header height; JD 643 6R corn head; CIH 1063 6R-30 corn head; header wagons

Tillage: Landoll 23ft 7341 VT w/rolling baskets; Kuhn Vari-Manager 8F roll-over plow; Gregoire-Besson 7F rollover plow; Gregoire-Besson 7F adj. plow; Kverneland 10F plow; Kongskilde 7F plow; AC 2F 3pth rollover plow; Salford 4205 5F plow; Kverneland 5x16 plow; MF 880 5x18 plow; Kongskilde 5F plow; IH 700 5F plow; Kongskilde 300 4F hyd. reset plow; Triple K 4F plow; IH 3F plow; Ford 3F 3pth plow; RJ 3pth 9-shank ripper; Glencoe 15ft soil saver; JD 960 40ft cultivator w/finger harrows; CIH 4600 24ft cultivator w/tine harrows; Wilrich 28ft cultivator; Kongskilde 19ft cultivator w/rolling baskets; AC 32ft cultivator w/rolling harrows and buster bar; White 266 20ft cultivator w/rolling harrows; Gregoire BM312 3m high speed disc; MF 520 14ft disc; Wilrich 12ft chisel plow; Keewanee 7-shank chisel plow; IH 55 10-shank chisel plow; Cockshutt 242 18ft disc; White 255 15ft disc; Krause 14ft disc; 10ft disc; 14ft roller; 12ft sprocket packer; R&R 10ft roller w/2-6ft pups; 12ft crowfoot packer; 10ft Brillion sprocket packer; 5-section harrows & pole; MF 6R scuffler; Kongskilde 8ft cultivator; 7ft toolbar w/3 shanks; 26ft of rolling harrow

Planting: JD 455 25ft seed drill; CIH 5400 Minimum-Till seed drill w/Yetter coulter cart; IH 5100 Soybean Special drill w/grass; IH 510 seed drills; CIH 900 6R air planter; JD 7000 6R planter w/liquid fert; JD 7000 4R planter

Haying and Forage: CIH 8575 sq. baler; NH BB940 sq. baler (needs work); IH 435 square baler; NH Super 717 harvester w/PU head; 3pth 2-wheel rake; JD 7ft hay tedder; 20ft and 18ft skeleton bale elevators; MF sickle mower

Spraying and Fertilizer: Terragator 8103 w/1800gal tank and 90ft boom; 60ft Hardi boom on 400gal tandem tank; 60ft 3pth sprayer boom w/Hardi pump (no tank); Geo. White sprayer; 8T stainless fertilizer tender unit; Eurospin 733-R pull-type fert. spreader; Vicon fert. spreader; Stoll 5T wet lime spreader

Wagons: 18ft dump wagon on 25T wagon w/hyd. brakes; 2-500bu Rodney gravity bins on truck gears; Kilbros 450bu gravity wagon; MW 400bu gravity wagon; 250bu gravity wagon w/brush auger; smaller gravity wagons; 16ft steel and mesh flat rack on Hagedorn 5T gear; flat rack wagons; feed wagon; Horst 12T DR gear; 8T gear; 5-8T Martin gears; 10 passenger people mover

Snow Equipment: Lucknow 8 1/2ft SA snowblower w/hyd. chute and hood; Hagedorn 9ft SA; North American 7ft; Hagedorn 7 1/2ft SA; NI 7ft; McKee 6, 7ft and 7 1/2ft SA; McKee 6ft DA snowblower; 9ft DA; Metalples 12-18ft blade w/subframe; 14ft snowblade; HLA 10ft snowpusher w/JD hookup; Snoway 8ft snowplow w/down pressure

Implements: Walinga 6614 grain vac/blower w/hose; Kongskilde grain blower w/70ft hose; Kilbros 490 grain buggy w/14in corner auger, cameras, scales, 750/65R26 tires; Parker grain buggy; Nuhn 5000gal manure tank; NH 195 tandem spreader w/endgate; JD 780 tandem manure spreader w/endgate; NH 185 manure spreader; Hagedorn 277 manure spreader; NH 352 and 355 mixmills; JD 14ft crop chopper; 6ft stalk chopper; Howse 6ft flail mower; Rock-o-Matic stone picker; Farm King 10-70 auger w/swing auger; Westfield 8-61 w/swing auger; Westfield 8-61 w/elec. motor; Westfield 8-51 auger w/boot; Brandt 8-50 w/swing auger; Westfield W70-36 PTO auger; Farm King 8-31 auger; Allied 6-50 PTO auger; Versatile 6-35 PTO auger; Farmhand 460 grain cleaner; Clipper grain cleaner; NH corn blower; Lockwood windrower; 3pth woodsplitters; 60in and 72in 3pth finishing mowers; Buhler 8ft 3pth blade; tandem undercarriage for 4000gal tank; Cadman 3750 irrigation reel w/gun; Rovati Rainmaker irrigation pump w/256 Ford eng; 2-Anhydrous tool bar applicators

Trucks and Vehicles: 2003 Kenworth W800 w/13sp, ISX Cummins, wetline, sleeper; 1997 Western Star w/wet line, 3406 Cat, 14k frnts, 46k rears; 2003 International single axle w/tilt and load; 1998 International 4700 w/Holan 83G-42ft reach bucket (125,000km); 2013 International w/24ft box; 2011 International Workstar w/26ft chasis, tandem, 10sp; 2011 Dodge Ram 1500 4WD, quad cab (188,000km); 2010 Ford F150 crew cab; 2006 Chev 2500HD 4WD, reg. cab, (173,521km); 2002 Volvo V70 wagon (169,000km)

Trailers: 2010 Lode King 4-axle grain trailer; 2003 Lode King 4-axle grain trailer; 1988 Jet hopper trailer; 48ft van trailer; 6000gal. alum. tandem tanker; 2021 Towtek 20ft alum. tandem trailer; Jamco 15ft steel stock trailer; 14ft homebuilt tandem cattle trailer; triaxle and tandem axle trailers w/vacuum tanks; 24ft triaxle; 6x10ft HD tilt trailer; 5x10ft utility trailer; galv. 4x6ft single axle; 2-bed snowmobile trailers; power tailgate for truck or trailer

Feed: 2-Lots of 50 1st cut 3x3x6 alfalfa/timothy/brome; 50 2nd cut 3x3x6 alfalfa/timothy/brome; 60-4x4 round bales of rye baleage (sealed in tube)

Livestock and Barn Equipment: Rissler 190cu.ft. stationary mixer w/motor and beam scale; Rissler 12ft x 30in feed conveyor; 7ft silo conveyor; Wic straw chopper w/Honda motor; Agrimetal elec. bale chopper; Agrichopper 5600 straw chopper; galv. 3 1/5T upright bin; 3-250cu. ft. poly feed tanks; 1500lb hopper tank; 600lb feed cart; stationary Houle fill pipe; calf chute; ventilation panels; poly water trough; wall-mt hay feeder; 2-13ft self-locking headgate; BSM galv gates from 4-14ft; 12ft galv. slant bar hd. rail; Calf-Tel calf hutch; 2-calf pens; elec. fence supplies; pressure treated, composite and steel fence posts; Farmatic feed proportioner; Beatty 4-comp meter mill (never used); Wetmore grinder; roller mills; feed carts; 11-8ft J-bunks; 6ft J-bunk; hay feeders; mineral feeders; 5-Franklin SS hog water bowls; 8-2x2 SS feeders; 15-Groba single feeders; 20pcs poly hog paneling; 19-30in x 7 1/2in tri-bar flooring (new); Patz 250ft CCW stable cleaner chain (high flighting); 2-Patz stable cleaner drive units (no motors); livestock crate for pickup; 4ft x 3ft air intake louvres; 2-cattle brush oilers; water bowls; 5hp feed blower air pump

Shop Equipment and Tools: Southbend 24in metal lathe; Atlas 12x36 metal lathe; Farmhand 5hp 60gal. upright compressor (as new); IR air compressor; welders; Delta 8in jointer; King bandsaw; Busy Bee shaper; 24in drum sander; Makita 10in cut-off saw; Craftsman chopsaw; 12in disc sander; 4in jointer; wood lathe; dust collectors; table saws; 6ft welding table; 2-forklift garbage totes; scaffold; machinists vise; 3x6ft metal parts bin; 10ft step unit; industrial sewing machine; power tools; hand tools; cutting torch; chain falls; 4-2 1/2T mach. skates; HD rotating engine stand

Lawn and Garden: Dixie Chopper 27hp zero turn w/60in deck; JD 165 hydro riding mower; JD 110 riding mower w/38in deck; AC 712H w/snow blower; Cub Cadet 1000; Roper Yard Pro GTR 18 w/blower; Yardman 17hp 42in hydro rider; Yard King 18hp B&S mower; Jacobson rider w/snowblower; Craftsman 8/25 snowblower w/elec. start; Mastercraft snowblowers; JD pushmower; Yard Pro 17in rear tine tiller; Berco frt. mt. sweeper; walk behind lawn sweepers; pull-type lawn sweepers; Gravely walk-behind garden tractor w/3 attachments; MF tiller; new 36in roller/aerator; frt.mt. aerator; garden trailer; frt. blade for Cub Cadet; gas trimmers

Recreational: 2010 Arctic Cat TRV 4WD 500 2-up; 2005 Polaris Sportsman 800 EFI 4WD ATV; Kawasaki 300 ATV; Ezgo golf cart w/13hp Suzuki (needs clutch); 2003 Skidoo Legend 600; Motoski 338; Polaris Colt SS340; '72 Nordic 440; '69 Nordic 370 w/elec. start; snowplow for Arctic Cat ATV; ski-booses; 7 pr. of new ATV tires/rims; Can-Am XMR Defender on tires and rims; ATV ramps; wind buggy; gas scooter; 11ft Water Tender rowboat

Duals and Tires: 20.8-38 duals; 18.4-38 DMI duals; 30.5-32 Goodyear rice tires; 16.9-30 tires on rims; 2-1000x42x5 flotation tires; 2-Alliance 550/45-22.5 flotation tires; 520/85-46 Goodyears; 520/65-34 frt. duals w/hdwr; 4-11x24.5 tires; 4-16.6x16.1 tires on rims; 4-10x16.5 concrete skid steer tires; 4-14.5 tires and rims; 4-16.1x14 rims; 2-11.25x22.5 rims; 4-11L-15SL tires and rims; 4-wagon tires on 8-bolt rims

Tanks: 1550gal; 250gal; 50 gal; 225L tank of JD planter; 2-1000L totes; 2-1650kg totes; 2000gal cone bottom tank w/stand

Miscellaneous: 2-Leroy towable air compressors; 660ft of 5in irrigation flat hose; Winpower 45kw PTO generator; Winpower 25/15 PTO generator on cart; Magnate 15kw PTO generator; Wallenstein 5000W Honda gas generator on wheels; MF loader; Frey 1650 loader 8ft material bucket; bale spear; 5ft bucket w/Allied QA plate; manure scraper for skidsteer; 20ft 3pth toolbar; hyd. forklift mast; JD 145 loader; HD forks; 5ft belly mower for Cub; Deutz sunshade; year-round cab (off IH 1066); 3pth jib crane; Westfield low-profile hopper swing auger; poly auger boot; large assortment of equipment parts; Westeel bin liner for 27ft dia; 8in x 16in elevator buckets; sweep augers; smaller augers; gravity bin aerator; Herd ATV grass seeder; Honda 5hp engine; 400L transfer fuel tank; 2-Bennett 3015 gas pumps; furnace fans; new 1/8hp furnace burner motor; lockers; 45gal drum w/hand pump; quantity of oak, walnut, and ash lumber; Honda GX200 transfer pump; 2in hoses; 8ft poly pond; 600L furnace tank; oil fired boiler; 2-Walinga PTO truck blowers; 150gal. alum. fuel tank; Walinga 38in utility box; headache rack; truck ramps; 4-wooden wagon wheels; propane conversion for pickup; back rack for pickup; 5th wheel hitch and tailgate; propane pig roaster; Heritage woodstove; chains; 100ft of 3/8 cable w/hooks; various weights; cast butcher kettle w/tripod; platform scale; 4-totes of firewood; Beatty 8ft windmill w/20ft tower; 24ft van body on wagon; 10x10x6ft dog kennel; 2-rolls of corn crib wire; qty of 30ft x 5in irrigation pipe on trailer; 200gal fuel tank w/12V pump; Stihl 250E and 021 chainsaws; one horse buggy; 2F antique plow; Santa Cruz 16in dressage saddle; horse tack
AUCTIONEERS NOTE
All items as described by owners.
Not responsible for deletions or accidents on auction premises.
For updates and some pictures see
jacobauctions.com
BIDDING AND CATALOGUE
available late Friday October 29 at
jacobauctions.hibid.com
PICKUP
Thursday November 4 from 9AM until 4PM
Friday November 5 from 9AM until 4PM
Saturday November 6 from 9AM until 3PM
TERMS
Interac, Visa, Mastercard, E-transfer, Wire Transfer, Cheque with ID.
10% buyer premium capped at $1000.00 per item
when paid with cheque or E-Transfer.
3% Admin Fee for Visa and Mastercard.
AUCTIONEERS
David and Doug Jacob 519-348-9896
Thursday October 28 2021
DATE BIDDING CLOSES
Bowman Auction Centre
7213 Line 86
Wallenstein, Ontario

Approximately 6 km west of Elmira

Click above for Road Map Detail!
Get directions and travel time from the Google map.

Click here for Weather!
Online Auction
of Farm Machinery, Shop Tools,
Lawn and Garden Equipment,
Antiques, Furniture, etc.

SALE STARTS TO CLOSE
Thursday, October 28th at 6:00pm
Tractors: 990 David Brown diesel 2wd w/ cab and loader; 430 Steiner 4x4 w/ grass deck

Equipment: 8' x 20' truck box on gear; 8' x 12' dump trailer; 8' x 20' flat rack wagon; 7' New Idea blower; 8.5' Lucknow blower; 2008 Suzuki quad; 6' x 10' Agr. Trend dump trailer; 3pth wood splitter; and more.

Trucks: 2005 Chev 4x4 Duramax diesel; Ford F150 4x4 truck.
NOTES
Large auction with over 1500 lots.
To view and bid go to
bowmanauctions.hibid.com
TERMS
Cash, Known Cheque, Credit Cards, E-Transfer
---
3 SALES SHOWN ABOVE
THAT MATCH YOUR CURRENT SEARCH