A LANDSBOROUGH
2 Day Gun Auction!
Canada's premier and longest running Gun Auction

Saturday May 25th, 2019 at 9:00 AM
Preview: day of sale from 8:00 AM to sale time.
Preview and Registration
Friday May 24th from 7 pm to 10 pm
Another large auction with approximately 400 quality Firearms including the inventory of Fred's Gun Repair, formerly of Delhi, Ontario. This sale will include non-restricted, restricted and prohibited Firearms, hunting and military long guns.

All reloading equipment, accessories, ammo and other items will be sold in the Sunday online auction.
Online bidding only auction closing May 26th
Lots begin closing at 4 pm EST
750+ lots including
Firearm
s, ammo accessories and collectible items.
ALWAYS ACCEPTING CONSIGNMENTS!!
Check our website for this sale listing and upcoming auctions and photos.
Live online bidding through iCollector.
Follow the link on our web site.
Valid P.A.L. must be presented to purchase
Firearm
s or ammunition.
Firearm
registration applies to all restricted and prohibited
Firearm
s.
Terms and conditions will be given prior to the beginning of the Auction Sale Saturday.
Terms of payment are Cash, Visa, M/C and Debit.
10% buyer's premium at auction
15% buyer's premium for on-line buyers
Auction Sale Conducted by Landsborough Auctions Ltd.
For more information on this and other upcoming auctions, please call
David, Gary and Ross Landsborough
(519) 449-1001 Landsborough Auctions & Triggers and Bows
E-mail: info@landsboroughauctions.com
Web site:
www.landsboroughauctions.com
Store website: www.triggersandbows.com
Questions about this sale?
SUBSCRIBE TO OUR AUCTION NEWS

Click Here to Visit us On-Line!
197258408 :
Saturday May 25 2019
Starts at 10:00 AM
Preview As Noted In Ad
CREEMORE ARENA
218 COLLINGWOOD STREET
CREEMORE, ONTARIO

Click above for Road Map Detail!
Get directions and travel time from the Google map.

Click here for Weather!
A KIDD FAMILY AUCTION
WWW.KIDDFAMILYAUCTIONS.COM
A LIVE AND ON-LINE AUCTION

WITH NO BUYER'S PREMIUM

PREVIEW: FRIDAY MAY 24TH 3-6 PM

Consignment auction consisting of outdoor gear,
shotguns, rifles, muskets, handguns, crossbows,
pellet guns, edged weapons, etc.
Firearm
s will be sold as catalogued lots.
Sale day will also feature
a wide variety of rare & common ammunition.
FirearmS-AUCTION_as57684">

CONSIGN NOW! NO BUYER'S PREMIUM!
NO PICKUP OR STORAGE FEES! SHIPPING AT COST!
WATCH FOR REGULAR CATALOG UPDATES.
CALL, TEXT OR EMAIL ANYTIME!!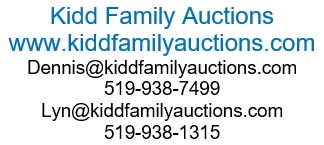 Questions about this sale?
SUBSCRIBE TO OUR AUCTION NEWS

Click Here to Visit us On-Line!
194976470 :
---
4 SALES SHOWN ABOVE
THAT MATCH YOUR CURRENT SEARCH