A McArthur-Bessey Auction
Dear valued Sellers, Buyers & Friends,
Due to the current COVID-19 crisis we have postponed
all of our live auctions and associated operations until
The Provincial Non-Essential Service Order
is lifted and we are allowed to gather in large groups.

All of our sales will be tentatively listed under June 30 2020.
The actual sale dates will be announced and re-posted
as they become known.
Sincerely,
McArthur-Bessey Auctions
for
David and Neil Watson
Tractors: CaseIH 8910, cab, 4x4, 135 hp, front fenders, 2300 hrs, front weights, 3 hydr, 18.4x42 rears, 14.9x30 fronts; CaseIH 5230, cab, 4x4, 85 hp, dual hydr, 4950 hrs, 18.4x38 rears, 14.9x24 fronts; Case 2094, cab, 108 hp, fr weights, 6700 hours 18.4x38 rears, 10.00x16 fronts; White 1370, 9385 hours, 169x30 rears, 61 hp; Case DC3 for parts or restoring; Case D for parts or restoring.

Machinery & Equipment: White 7300 combine, diesel, 105 hp, narrow 3 row corn head,13' straight cut head, pick-up head; White 503 five furrow plow, semi mount, auto reset, 18" bottom; MF 33 seed drill, 17 run, grain, fert, grass box, trip lift; NH 185 manure spreader, top beater, end gate, hydr drive; NH 488 haybine, 9' rubber rolls; NH 311 square baler, chute, under 20,000 bales; NH 640 round baler, auto wrap, twine, 4x5' bales; Kuhn GA 300 GM rotary rake, 3pth; Allied stooker, ground drive; 2 wheel swath turner; Brandt 852 auger, pto drive, 52'x8" ; Case IH 4800 cultivator 24' tandem on base, tandem wings, 3 row finger harrows, hydr to back; McKee corn scuffler, 4 row, adj; Kewanne Discs, 22', manual wings; Dunham packer, 14', with transport; diamond harrows, 6 sect, metal bar; Wifo sub soiler, 3 shank, 3 pth; JD corn planter 7000, 4 row narrow, dry fertilizer, insecticide box; MF 3 furrow plow, 12", 3pth; 18.4x42 bolt on duals.

Farm Related/Shop: Bruns 325 hopper wagon, 10t, dual reach; Bruns 375, 12t dual reach; 10t dual reach undercarriage; 20' steel hay wagon, steel top and back rack, dual reach; cement T wall, 45 sect, 4'x10'; scraper blade, 6'; 3 pth water tank, 100 gal; feeder wagon, 24', John B.M. MFG; Valmetal belt conveyor, 24' with motor; (3)Ritchie frost free water bowls; McKee snowblower for parts; (3)locking head gates, 10'; galvanized spindle penning, for calves or sheep; (2)undercarriages; 407 McCormick walking plow; auger, 4"x20'; cement mixer, 3pth, pto drive, belt pulley; Agri-metal roller mill, double roller, for corn and mixed grain; (3)grain bins, 5000 bushel, full floor vent, 3000 bushel, tube vent, 3600 tube vent; bale cart, 4 wheel steer; bale tarp; portable fan; Valmetal conveyor, 12'; feed cart; assorted gates; Wic Electric bale chopper; grain aerator
Lunch Booth ~ Washroom Available
WATCH FOR PREVIEW DATE AND TIMES
Note: Steel grain bins and roller mill to be removed by purchasers.
Equipment has been stored inside and is of high quality.
You won't want to miss this sale.
Order of Sale
Wagonload; Shop/Farm Related; Machinery & Tractors
Terms & Conditions
Cash or Cheque with proper I.D. on day of sale.
Owner and/or Auctioneer will not be held responsible for accident or loss on day of sale.
All items are sold AS IS.
All verbal announcements on day of sale take precedence over written ads.
Contact
David Watson (647) 523-9212 ~ Neil Watson (647) 227-2804
Auctioneers
Kevin McArthur (519) 942-0264 ~ Scott Bessey (519) 843-5083
For full listing and photos visit:
www.theauctionadvertiser.com/KMcArthur
Friday June 26 2020
DATE BIDDING CLOSES
Jacob Auction Yard
185 Herbert Street
Mitchell, Ontario

Click above for Road Map Detail!
Get directions and travel time from the Google map.

Click here for Weather!
Annual Spring Machinery Consignment Auction
Of Tractors; Combines; Implements; Trucks;
Trailers; Lawn and Garden; and ATV's.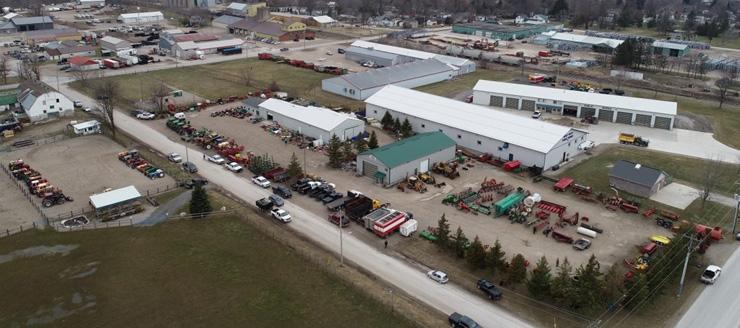 This will be an Online Only Auction due to COVID-19
CURRENTLY NO PHOTOS PROVIDED FOR THIS SALE
ADVANCE NOTICE: Call now to consign a full line or a single piece. No small items for this auction please. To consign items phone (519) 348-9896. All items must be prebooked. Please consign items early for full advertising. Prebooked items can be brought in June 15, 16, 17 only.
For Upcoming Auctions see
Jacobauctions.com.
To book yours, give us a call!
Auctioneers
David and Doug Jacob
(519) 348-9896
Saturday June 13 2020
Starts at 9:30 AM
1431 Lobsinger Line
Waterloo, Ontario
(across from Martin's Fruit Farm)
Click above for Road Map Detail!
Get directions and travel time from the Google map.

Click here for Weather!
for Dave Redecop
(DR Freight Service)
Highlights include
: Highway tractors and trailers; cars;
Farm Machinery
; 4 wheeler; quantity of shop equipment;
welders; tools; and household effects.
Note
Watch for a full list coming soon.
This is a surplus inventory reduction auction.
Saturday June 06 2020
DATE BIDDING CLOSES
MITCHELL'S AUCTION BUILDING
60 YANKEE LINE
OMEMEE, ONTARIO

3k east of Omemee on #7, 5k north on Emily Pk. Rd. to 60 Yankee Line

Click above for Road Map Detail!
Get directions and travel time from the Google map.

Click here for Weather!


Consignment
ONLINE ONLY AUCTION
"Outside Preview Only"

Bidding Opens - Saturday May 30 at 10am
Closes - Saturday June 6 at 6pm
With Soft Close In Effect
Tractors
New Holland TM115 w/Allied Loader - 5213 hrs. - 115hp
Zetor 6245 w/594 Loader, New Clutch & Tires - 61hp
International 250 - diesel

Farm Machinery
Gehl Discbine 2412
Miller Pro 259 Dual Rake
HD Horst Hay Wagon w/I Beams and
New Plank Rack
IH 540 Manure Spreader - nearly new tires
Bale Thrower Cage for 18' Wagon
Hay Elevators
Cultivators
JD Loader for 2010 Tractor
Tandem Axle Box Trailer - 5 x 11'
10 New Farm Gates
2-5' Rotary Mowers
3pth Blades - 6', 7' & 8'
JD 3Pt Post Hole Auger 8"
Set of Harrows with Evener
25' x 8" Silo Pipe
3 Sets of Tractor Weights
Cattle Mats
Aluminum Ext Ladders
Farm Shop Manuals
Car Manuals
2 Rolls of High Tensile Fixed Knot Fencing, 12.5g - 330' ea.
Much More!

Truck
2001-F350, 7.3 L Engine, Turbo Diesel, Auto, Dually, 2WD, 8' Box- 220,000km-not running

8' Contractor Box with side tool boxes
6' Slide out box - fits in a pickup
Set of Ford Truck Tires
Lg. Selection of Tools, Shop Machines & Misc.

Recreational
26' - Older Camper Trailer

Some Antiques

New Items: Qty. New Buckets, Chains, Forks, Bull Snaps, Draft Halters other Horse Related Items
Info call Jason (705) 743-5259,
Colleen (905) 435-2919 or
Doug/Shirley (705) 799-6769
www.dougmitchellauctions.com or www.jmauctions.ca
For Catalogue, To Register and to Bid go to
jasonmcintoshauctions.hibid.com
Monday June 01 2020
DATE BIDDING CLOSES
1081 Settlement Road
Wellesley, Ontario

Click above for Road Map Detail!
Get directions and travel time from the Google map.

Click here for Weather!
ONLINE AUCTION

Closing Monday June 1 at 7:00 PM
Highlights include: Farm Machinery; farm miscellaneous;
lawn and garden equipment; hand and power tools; new tools;
approximately 40 big square bales of straw; and much more.
Thursday May 28 2020
DATE BIDDING CLOSES
Bowman Auction Centre
7213 Line 86
Wallenstein, Ontario

Click above for Road Map Detail!
Get directions and travel time from the Google map.

Click here for Weather!
ONLINE ONLY AUCTION
Large Multiple Estate and Consignment Auction
of Farm Machinery, Shop Tools, Lawn & Garden Equipment,
Furniture, Household Effects, etc.

AUCTION OPENS FRIDAY MAY 22nd @ 9:00am
STARTS TO CLOSE THURSDAY MAY 28th @ 6:00pm
Car and Trailer: 32' tri axle bumper tow trailer; 2009 Toyota Prius hybrid car.

Tractor: MF 298 2wd w/ cab, approx. 3000hrs., diesel, in good running order.

Farm Machinery: John Deere 7000 6 row narrow corn planter w/ liquid fertilizer; Horst header wagon; 24' steel rack bale thrower wagon on Horst double reach gear; GA 4220 Kuhn rotary rake master drive on tandem gear w/ 10' working width (LIKE NEW); small Grain-O-Vator grain buggy; 12' transport packer; 9' crowsfoot packer; 3 and 4 section diamond harrows; IH 21 run seed drill double disc w/ press wheels; 7' 3pth scraper blade.

Miscellaneous: Coats tire changer; Coats electronic wheel balancer; 5' x 7' trailer frame; hydro poles; 7' x 10' steel truck flat bed; 18.4-38 T rail duals w/ hardware; 18.4-38 bolt-on duals; 200 gal plastic tanks; Genie personal lift (hand crank); 20 ton press; steel band saw on wheels; 175 gal plastic tank; 10.5'H x 10.8'W overhead door; steel firewood storage crates; 6' sickle mower on steel wheels; wire dog run; 6' x 9' hay feeder; 16.9 - 30 and 18.4-38 wheel chains; rolling door track; T bar stakes; pallet forks; buckets; torch cart; barn fans; S-tine corn scuffler parts; and more.

Lawn and Garden: 54" Howse 3pth tiller; 30" commercial self-propelled mowers; leaf vac; generators; Troy-Bilt rear tine tiller; front tine tiller; pushmowers; Kubota diesel riding mower; Walker zero turn mower; Honda rear tine tiller (fully serviced); chainsaws; concrete saws; water pump; 2 - ExMark commercial zero turn mowers; Cub Cadet 50" riding mower w/ hyd. lift and power steering; string trimmers; lawn roller; tow behind weed sprayer; lots of pedal bikes; and much more.
For catalogue, to register, and to bid visit
bowmanauctions.hibid.com
Notes
Over 800 lot auction, far too much to list!
Terms
Cash, Cheque, E-transfers, Credit Cards
Wednesday May 27 2020
DATE BIDDING CLOSES
ROCKFORD AUCTION CENTRE
103043 Grey Road 18
ROCKFORD, ONTARIO
5 kms South of Owen Sound, on Grey Rd. 18, just East of the Rockford stoplights.

Click above for Road Map Detail!
Get directions and travel time from the Google map.

Click here for Weather!
ONLINE AUCTION
TOOLS, RECREATIONAL & EQUIPMENT

BIDDING BEGINS CLOSING
WEDNESDAY, MAY 27TH @ 7:00 P.M.
Featuring7 International 9400i Highway Tractor; New Holland 8360 4WD Diesel Tractor w/Cab; Kubota B21 Compact 4WD Diesel Tractor Loader Backhoe; Stone 2500 lbs. Roller; Kubota B6200 Hydrostatic Tractor; Stanley 54" & Cub Cadet 46" Zero Turn Lawnmowers; Etchells 22' Day Sailer; Woodworking, Electrical & Other Contractor Tools & Supplies.

Plus: New Tool Cabinets & Work Benches; Storage Shelters & Sheds; Construction, Landscaping & Automotive Equipment; Skid Steer & 3PH Attachments; Greenhouses; Generators; Warehouse Racking; Trash Pumps & More.
---
11 SALES SHOWN ABOVE
THAT MATCH YOUR CURRENT SEARCH