Annual Fall Machinery Consignment Auction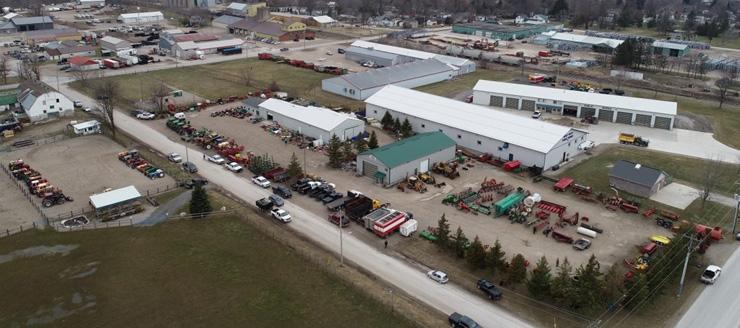 Online Auction of Tractors; Combines;
Implements; Trucks; Trailers; Lawn and Garden;
ATV's; Shop Equipment and Tools;
and Farm Related Miscellaneous
Closing Thursday November 5 at 6:00 PM
ADVANCE NOTICE
Call now to consign a full line or a single piece.
Always a large well attended annual sale.
To consign items phone (519) 348-9896.
Limited small items will be accepted.
All items must be prebooked.
For full
Advertising
please consign items by
Friday October 16th.
Prebooked items can be brought in
October 26, 27, or 28 only.
For Upcoming Auctions see
jacobauctions.com
To book yours, give us a call!
Auctioneers
David and Doug Jacob
(519) 348-9896
Saturday October 31 2020
DATE BIDDING CLOSES
Carleton Place, Ontario

Click above for Road Map Detail!
Get directions and travel time from the Google map.

Click here for Weather!
Our October Sale Is Our 50th!!
Finally, something to celebrate in 2020.

I am thrilled to offer a stellar line-up for MLA50.

MLA50 Opens Online Wednesday October 21st
Closes Online Saturday October 31st at 6pm ET.
In Pottery: Lazier Picton CW double bird crock, Elliott Aultsville slip cup, and G.H. & L.E. Farrar St Johns PQ bird crock.

In Bottles: R.S. Bradley London CW hockwine, Bews Revelstoke BC poison, Erie Eatons pint, and several killer early sodas.

In Tins & Signs: Rock City Tobacco (Quebec) "Master Mason", Black Cat stove dressing, and three gorgeous stove Advertising pieces.

In Ginger Beers: unique Brantford-made Robertson Mt Forest, Sproatt Toronto, and a Northern Springs Toronto.

Finally, we have a great selection of Antiques: ash burl bowls, painted firkins, and a pair of Napanee Glassworks candlesticks. A sale for the history books!
---
2 SALES SHOWN ABOVE
THAT MATCH YOUR CURRENT SEARCH