ONLINE AUCTION SALE

Bidding Opens Wednesday March 31st 2021
Closing Thursday April 8th 2021 Starting At 7 PM

For Mr. Gary Dodkin
of Listowel,Ontario
CURRENTLY NO PHOTOS PROVIDED FOR THIS SALE
Sale Includes
:
9 Ford Collector Tractors
, 45 John Deere Collector Toy Tractors Some Are Erlt, Precision & Toronto Farm Show Edition . Also Several Lots Of John Deere Memorabilia . Full Listing & Pictures Coming Soon.
Four Lots Will Be Sold Subject To Owners Approval.
Lots Selling With Owners Approval Will Say So In The Description.
Registration, Catalog and Bidding at
silentauctionbiz.com/auctions/mj-auctions
NOTE
Gary Is A Longtime Collector and was a
Longtime Service Manger for A John Deere Dealership.
10% Buyer Premium .
Items Will Be Picked Up In Grand Valley.
Address Will Be Disclosed To Buyers Only!
All items are sold "AS IS".
Propietor/Facility owner and/or Auctioneer
will not be held responsible for accident during pick up.
MJ Auctions
C/O Mike Johnson, Auctioneer
Grand Valley
519 938 0668
Proprietor
Gary Dodkin,Listowel
Thursday April 08 2021
DATE BIDDING CLOSES
Jacob Auction Yard
185 Herbert Street
Mitchell, Ontario

Click above for Road Map Detail!
Get directions and travel time from the Google map.

Click here for Weather!
Annual Spring Machinery Consignment Auction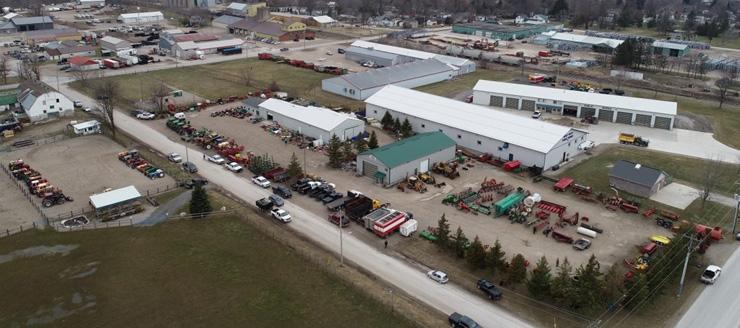 Of Tractors; Combines; Implements; Trucks;
Trailers; Lawn and Garden; and ATV's

Closing Thursday April 8, 2021

This will be an Online Auction
ADVANCE NOTICE: Call now to consign a full line or a single piece. To consign items phone (519) 348-9896. All items must be prebooked. Please consign items early for full advertising. Prebooked items can be brought in March 29, 30, and 31 only. For Upcoming Auctions see Jacobauctions.com. To book yours, give us a call!
Auctioneers
David and Doug Jacob
(519) 348-9896
---
2 SALES SHOWN ABOVE
THAT MATCH YOUR CURRENT SEARCH