Due to the
State of Emergency and Stay at Home Order
released by the Provincial Government,
we have made the decision
to hold off closing this auction until
Wednesday Febraury 17 2021,
in order to try and keep our communities safe.

We apologize for any inconvenience
but feel that this is the only way to do our part
to try and halt the spread of COVID-19.
Online Clearing Auction
Of Tractors; Forklifts; Vehicles; Equipment;
Greenhouses; and Miscellaneous

Auction Begins to Close
Wednesday February 17 2021 at 6:00 PM
Tractors: 2018 JD 6155R MFWD, IVT, guidance ready (750hrs); 2017 JD 6120R MFWD, IVT, guidance ready (508hrs); 2014 JD 6150R MFWD, IVT, guidance ready (7621hrs); JD 7420 MFWD, IVT (2328hrs); JD 6430 MFWD, IVT (12,900hrs); JD 6420 MFWD, IVT (5533hrs); JD 6420 MFWD, Power Quad (11,700hrs); Kubota M5700 MFWD w/Kubota 920 Loader (3978hrs); IH 656 Diesel

Guidance: 3-JD 6000 Starfire Globes (Sold Separate)

Forklifts: Toyota 25 5000lb propane w/clam, forks, and sideshift; Toyota 25 5000lb electric w/sideshift; Toyota 20 3500lb electric

Equipment: Amazone Catros 3pth 4M cultivator;3-Bauer Rainstar Irrigation Reels; 4-Irrigation Pumps; 2-Primer Pumps; 4,5, and 6in irrigation pipe and accessories; RJ Equipment 6R broccoli transplanter; Field Pack broccoli harvester; Kongskilde 6R scuffler; chisel plow; mounted sprayer tanks; broccoli and flat rack wagons; Marksman Broccoli seeder and seed drum; Marksman vermiculite applicator; hard plastic planting trays; RBS Auto Plastic Wrapping Machine and Damark Heat Tunnel

Greenhouses: 8-Complete greenhouses w/ends, furnace, fans, irrigation louvres, controllers, etc; 3-Open greenhouse frames w/waterline, etc.

Vehicles: 2012 Ford F250 Crewcab, 4WD; 2004 Ford F350 Crewcab, 4WD; 2007 and 2008 Toyota Sienna Vans; 2007 Ford 12 Passenger Van; 2001 Ford 15 Passenger Van; International 4300 Diesel Single Axle Flat Deck Truck

Miscellaneous: Cooling unit w/5hp air cooled condenser, 2-Keepright evap. coils w/elec. defrost (new in 2020); forced air cooler w/fans, evap. coils, condensing units; Howe 2 and 10 Tonne Flack Ice Makers; poly tanks; fuel tanks for pickups; porta-potties on trailers; harvest knives; Stokes' broccoli seed; and much more. For complete listing go to
Auctioneers Note: The Visscher's are retiring from growing broccoli after many years in business. Quality line of equipment. For viewing of equipment, questions and information please phone Pete at 519-878-3440.
For full catalogue and bidding please go to
jacobauctions.hibid.com
If you are unable or uncomfortable bidding online,
or have trouble registering please call our office at
519-348-9896 and we can help you out
Proprietor
Visscher Farms 519-878-3440
Auctioneers
David and Doug Jacob 519-348-9896
Wednesday January 27 2021
DATE BIDDING CLOSES
No Viewing
1241 Salem Road
Little Britain, Ontario
Located 3 mile East of Little Britain on Kawartha Lakes Rd 4

Click above for Road Map Detail!
Get directions and travel time from the Google map.

Click here for Weather!
Online Sale

Soft Closes Wednesday January 27 2021 at 6pm
To Include: 6pc Thomasville dining room set -- 5pc sleigh bedroom set -- teak table and 8 chairs -- Singer treadle sewing machine-Shirriff hockey coins -- autographed hockey pictures -- hockey game -- jewelry -- currency -- advertising tins -- snow shoes -- carnival glass -- pyrex-mahogany table and chairs -- tea wades -- child's wooden wagon -- corner china cabinet -- guitar amps -- flat screen tv -- child's drum set -- die cast toys -- corner china cabinet -- 8pc maple dinette set -- elec fire place -- bar fridge -- GE side x side stainless fridge -- Toro Power Clear snowblower
Bidding opens Saturday January 23 at noon
Soft Close Starts Wednesday January 27 at 6pm
No Viewing Due to Covid 19
Don Corneil Auctioneering Services
1231 Salem Road, Little Britain, Ontario 705-786-2183
For terms, catalogues, viewing and pick up times go to
corneilauctions.hibid.com
Wednesday January 27 2021
DATE BIDDING CLOSES
No Viewing
Great West Auctions
4066 Brigden Road
Petrolia, Ontario
Click above for Road Map Detail!
Get directions and travel time from the Google map.

Click here for Weather!
Selling for Trust Account Online Auction

Great West Auctions is having an Online Auction
featuring Vinyl Records and Stamps!!
Come check it out at
greatwestteam.hibid.com
Auction Starts Saturday January 23rd @ 8 AM
Auction Ends Wednesday January 27th @ 8 PM
5 min soft close
Pickup
Thursday January 28th 3:00 to 5:00 PM
4066 Brigden Road, Petrolia, Ontario
Preview
Unavailable
Terms
15% Buyers Premium
Will accept Visa or MasterCard.
Credit cards will be charged after the sale.
Great West Auction Company
519-882-4554 ~ online@greatwestteam.com
4066 Brigden Rd, Petrolia, ON N0N 1R0
www.greatwestauctions.com
Wednesday January 27 2021
DATE BIDDING CLOSES
Rob Sage Auctions
259 Innisfil Street
Barrie, Ontario
Located Right Across From The Barrie Antiques Centre
(Sandford & Son Emporium),
The Building In the Back Of The Parking Lot Of The TSC Store

Click above for Road Map Detail!
Get directions and travel time from the Google map.

Click here for Weather!
Rob Sage Online Antique Auction
Bidding Starts Sunday January 24 @ 6:00 pm
Soft Closing Wednesday January 27@ 7:30 pm
Over 450 Lots.
Daily Updated Photo Gallery With Full Details at
WWW.ROBSAGEAUCTIONS.COM
Excellent Offering Including Antique Country & Formal Furnishings; Edison Diamond Disc Phonograph; Original Artwork & Prints; Bronzes; Early Electric & Coal Oil Lighting; Moorcroft & Art Pottery; Crocks; Primitives & Country Decor Items; Radios; Coffee Grinders; Mid Century Modern Furnishings; Signs; Toys; Inuit Soapstone Carvings; Scales; Railway Lanterns, Pharmacy Bottles; And Much More!
NO PREVIEW FOR THIS AUCTION,
DUE TO COVID-19 RESTRICTIONS.

CURBSIDE PICKUP, DELIVERY AND SHIPPING AVAILABLE.
Pick Up At Our Warehouse Location
BY APPOINTMENT ONLY

Quality Antique Consignments Welcome For Upcoming Auctions.
Flat Rate Commission, No Charge For Photos, Listing, Storage Etc.
Check Out Our Website For More Details.

Discover The Fun And Excitement
Of Our ONLINE Auctions!
Wednesday January 27 2021
Starts at 10:00 AM
43853 Southgate Road 4
Mt Forest, Ontario
East of Mt. Forest, on Southgate Rd. 04 Fire # 43853 or
Turn off Sdrd 49. Head West approximately 1/2 mile,
5th entrance way on the right (Northside).

Click above for Road Map Detail!
Get directions and travel time from the Google map.

Click here for Weather!
Mount Forest
Ag Auction Co-operative
NOW HOSTING
WEEKLY HAY & STRAW AUCTIONS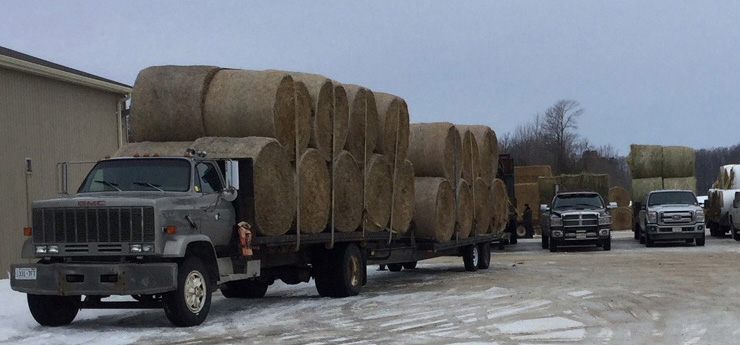 We have been granted permission by
the Grey-Bruce Health Unit
and the local municipality
to resume hosting
HAY & STRAW AUCTIONS
Auctions are now held weekly to reduce sale size.
We ask that the following requirements are met
:
*all attendees must be feeling well and not knowingly
having been exposed to anyone with COVID-19
or been outside Canada in the last 14 days
*auction will be drive through so consignors can stay in their vehicles
*2 metre social distancing is mandatory
*PLEASE, prospective buyers only, all others stay in your vehicle
We will be waiving all order buyer fees at this time,
so call in your orders!
ACCEPTING CONSIGNMENTS
Tuesday Afternoons Prior to Sale and
Wednesdays uo to sale time - no appointment rquired
TERMS
Cash Sale Day, Cheques with ID
Owners, Auctioneers, Organizers not responsible for
accidents, injury, deletions or loss of property sale day.
All verbal announcements take prcedence
over written material.
LOADER AVAILABLE
General Manger: Stewart 519-323-2658
Assistant Manager: Elvin 519-323-1043
Sales Yard: 519-509-2828
Wednesday January 27 2021
DATE BIDDING CLOSES
KelsoBid Auctions
206 Victoria Road South
Guelph, Ontario N1E 5R1

Click above for Road Map Detail!
Get directions and travel time from the Google map.

Click here for Weather!
BARN FINDS PICKERS AND PRIMITIVES AUCTION
OVER 500 LOTS

Bidding Open Saturday January 23 8:00AM
Bidding Closes Wednesday January 27 8:00PM
A Large Primitives Antiques and Unusual Barn Finds Auction -- Fresh to Market Antiques From Nova Scotia and Eastern Canada -- Decoys -- Primitive Pine Pail Benches -- Stoneware Crocks and Merchant Jugs -- Early Cast Iron Pieces -- Good Early Glassware -- Lamps and Many Lighting Collectables -- Old Signs and Advertising Pieces. Sale Catalogue Will Be Posted When Complete ... Stay Tuned It's Going To Fun!
To View Catalogue, Register and Bid go to
kelsobid.hibid.com
Mike Kelso
President
KELSO & COMPANY AUCTIONEERS INC.
WWW.KELSOBID.COM
519-837-7653
Auctioneers Appraisers Since 1994
Wednesday January 27 2021
NOTE RESCHEDULED SALE CLOSING DATE
Preview By Appointment Only
39027 Dashwood Road
Exeter, Ontario
(Highway 83)
Click above for Road Map Detail!
Get directions and travel time from the Google map.

Click here for Weather!
Online Clearing Auction
Of Tractors; Forklifts; Vehicles; Equipment;
Greenhouses; and Miscellaneous
Due to the
State of Emergency and Stay at Home Order
released by the Provincial Government,
we have made the decision
to hold off closing this auction until
Wednesday Febraury 17 2021,
in order to try and keep our communities safe.

We apologize for any inconvenience
but feel that this is the only way to do our part
to try and halt the spread of COVID-19.

Auctioneers
David and Doug Jacob 519-348-9896
---
7 SALES SHOWN ABOVE
THAT MATCH YOUR CURRENT SEARCH