Farm Machinery Auction Sale
plus 5th wheel travel trailer, truck & van, boat & motor, farm primitivesFor Wayne & Janet FergusonEssex, Ontario

Sale to be held at the Ferguson Farm

No Reserve. Farm is Sold.
Well cared for, stored inside equipment.

More photos at
www.jackmorrisauctions.com
Tractors
Case 2290, diesel, purchased new, 3438 hours, has new paint & new tires, 20.8x38 rear radials, cab, 2 outlets, very sharp & clean;
Case 870 diesel, power shift, 4611 hours, cab & heater, new paint & rear tires, complete rebuilt engine 3 years ago, sells with Case loader & 2 buckets;
Case 830 gas with eagle hitch, open station;
Case DC (1952), rebuilt engine, eagle hitch, live PTO, new paint, good rubber;

Duals, Weights
set of 20.8x38 T-rail duals; set of 18.4x34 T-rail duals; set of 13x38 clamp on duals; set of 18.4 x 34 tire chains; Case front end suitcase weights;

Combines, corn head
Case 960 with cab, heater, 13 ft. header with love bar & pickup reel, chopper, works well, used in 2019;
Case 660 with cab, chopper, new paint, 13 ft. straight cut header, in working order;
Case 402 - 2 row wide corn head, looks new;

Planting
MF 468 - 9 row bean planter; 2 row wide straight planter;

Tillage, Sprayers, etc
Case 12 ft wheel disc;
two 13 ft wheel cultivators;
Triple K 11' - 3 ph cultivator with rolling harrow;
Case 4 furrow 3 ph plow (4 x 14);
Turnco 13' cultipacker;
Turnco 7' crow foot packer;
two 15' lever harrows;
Continental saddle tank sprayer; 3 ph barrel tank sprayer;
14' land leveler; MF 7' - 3 ph sickle mower; Herd grass seeder;
8' - 3 ph scraper blade; two category 2 - 3 ph quick hitches; 3 ph pallet forks;

Wagons (9)
five 250 bu. gravities; two 200 bu. gravities; two 150 bu wood box grain wagons with hydraulic hoists; 2 wagon augers;

Back Hoe
Long 3 ph back hoe with 2 buckets;

Dump Trailer
14' hydraulic dump trailer, dual axle, quick hitch;

Trailers
like new 16' dual axle electric brake utility trailer; Moore snowmobile trailer;

5th Wheel Travel Trailer
27' Dutchman with hydraulic slide out, 5th wheel hitch, approx. 1994, purchased in '99, has new tires, new fridge, propane furnace, air conditioner, good brakes; sharp & clean & in very good condition;

Van & Pickup
2004 Ford Freestar van, 250,000 km, selling as is;
2002 Ford F250 Super Duty pickup, Lariat, 7.3 diesel engine, super cab, 8' box with cap, 580,000 km, selling as is;

Boat, Motor, Trailer
14' Starcraft boat with 6 Hp Johnson motor, trailer, trolling motor & fish finder;

Farm Primitives & Miscellaneous Items
one horse cutter sleigh (last used in '45);
belt driven grain grinder with bagger made by Goold, Shapely & Muir Co., Brantford;
Massey Harris stalk chopper; old style reel push mower;
milking machine pails, strainer & milk cans; butter churn;
feed bag cart; steel wheels; long toboggan;
MTD 8 HP riding mower, 32" cut, with small trailer; pressure washer;
bench saw with jointer; tractor mounted belt driven buzz saw; rototiller;
2 gas powered push mowers; 10' x 22' tarps; hydraulic cylinders;
fence stretcher; brown glass jugs; clay pots; 2 bicycles; dog cage;
2 old trunks; 2 rolls snow fence; pallet pullers (3); hand saws; etc.
Terms
Cash, debit, personalized cheque day of sale. (Visa, MC with 3% premium).
Owner or auctioneer not responsible for accidents day of sale.

Lunch available.

Proprietors: Wayne & Janet Ferguson, 519-839-4220
Auctioneer: Jack Morris, 519-687-2530 or 1-800-462-3561
Saturday March 28 2020
Starts at 10:00 AM
52 Peel St. East
Alma, Ontario

(County Rd. 17)
Click above for Road Map Detail!
Get directions and travel time from the Google map.

Click here for Weather!
Of MF compact tractor, riding lawn tractors,
trailers, tools and miscellaneous items

for Paul and Pearl Gibson
TRACTORS: MF 1529 diesel compact tractor with L100 loader, bucket, pallet fork, 4wd, hydrostatic, 1 owner, 142 hours, excellent. MF 14 riding lawn tractor, hydrostatic, 4sp. transmission, mower deck, duals. 1974 JD 140 riding lawn tractor. JD 300 riding lawn tractor with mower deck, hydrostatic, 3ph. JD 111 riding lawn tractor, mower deck, hydrostatic. Yard Machine 13.5hp riding lawn tractor with mower deck. 1970's Wheel Horse C-120 riding lawn tractor, mower deck, 8 speed. Columbia riding lawn tractor, 15hp Koehler engine, hydrostatic. Yard Pro riding lawn tractor, 14hp. NOTE - All tractors are in good running order.

TOOLS & RELATED: King KC1236 metal lathe, 12 X 36in., with accessories, good condition. Canox wire feed welder. Lincoln AC-225 welder. Trademaster metal band saw. Acetylene torch and tank. Bench grinder. Drill press. Small wood lathe. Wood turning chisels. Welding table with heavy vise. Hyd. floor jacks. Rolling tool chest. Assorted hand tools. Socket & wrench sets. Air tools. King 120 gal. air compressor. Various work tables. Few old antique tools, etc.

MISCELLANEOUS ITEMS: 38ft. trailer for storage (to be removed). 15ft. storage box (to be removed). Triton 8ft. alum. trailer with tail gate & ramps. White 13hp, 33in. snow blower, power steering, good. Kodiak 3000 psi gas pressure washer c/w Honda 11hp engine. Custom built 6ft. tandem trailer, hand hyd. dump, good. Heavy "A" frame (to be removed). Front mount blade (fits JD 140 & 300). 3ft. pull type lawn roller, good. Precision Pro lawn tedder. Pull type aerator. 8ft. wooden flat rack wagon, good. 3ph weight. 6ft. 3ph scraper blade. 4ft. 3ph scraper blade, 3ph diamond harrow & single furrow plow (lawn tractor attachments). 16hp gas engine. Electric lawn mower. Propane construction heater. Trailer ramps. 100ft. new nylon rope. Load binders & chains. Assorted hardware & parts. Few Husky and other old snowmobile parts. Welding steel. Office chairs, desks, filing cabinets, etc. Small fridge & water dispenser. Early fire extinguisher & Coleman heater. Few old service manuals. Shelving. Scrap metal, plus a wagonload of related items.
Note
Plan to attend this interesting auction. No reserves.
For photos see
www.gerberauctions.net
Proprietors and auctioneers not responsible for accidents day of sale.
Lunch booth.
Terms
Cash or cheque with I.D. (no cards).
Sale Order
Wagonloads, balance of tools & miscellaneous items, tractors with accessories.
Proprietors
Paul and Pearl Gibson 519-846-8074
Auctioneers
Gerber Auctions Ltd.
519-699-4451 or 698-0138
2827 Hutchison Rd., R#1 Millbank (Crosshill)
Saturday March 28 2020
Starts at 9:00 AM
Preview Time To Be Announced
Jacob Auction Yard
185 Herbert Street
Mitchell, Ontario

Click above for Road Map Detail!
Get directions and travel time from the Google map.

Click here for Weather!
Annual Spring Machinery Consignment Auction

Of Tractors; Combines; Implements; Trucks; Trailers;
Lawn and Garden; ATV's; Shop Equipment
and Tools; and Farm Related Miscellaneous

PLEASE NOTE
Prebooked items can be brought in
March 23, 24, or 25 only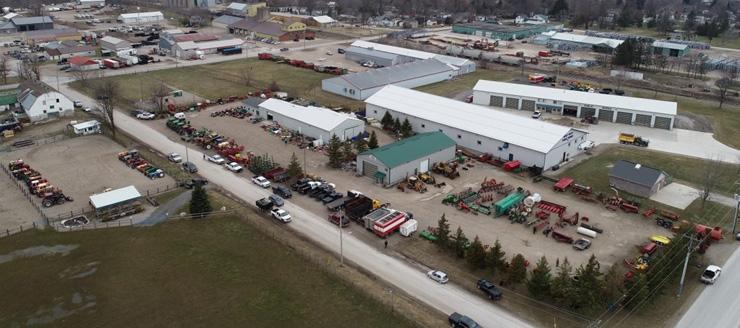 NO PHOTOS CURRENTLY POSTED TO THIS SALE
ADVANCE NOTICE: Call now to consign a full line or a single piece. Always a large well attended annual sale. To consign items phone (519) 348-9896. All items must be prebooked. Please consign items by Friday March 6th for full advertising. Prebooked items can be brought in March 23, 24, or 25 only. For Upcoming Auctions see Jacobauctions.com. To book yours, give us a call!
Auctioneers
David and Doug Jacob
(519) 348-9896
---
4 SALES SHOWN ABOVE
THAT MATCH YOUR CURRENT SEARCH