Shackleton's Auction and Realty
New Year, New Auction Sale

Starts to close Wednesday, January 22nd, 2020 at 6:00pm

Come join us for our first sale of 2020!
Featuring an eclectic collection of antique furniture, petroliana, Coca-Cola tins, large jewellery collection, copperware, crockery and Rockingham collection; large assortment of art work - original oil paintings, water colours, and prints; part one of a vast record collection and so much more!

Highlights include: collection of rare pink cornflower glass; selection of vintage Coca-Cola trays, Orange Crush and Hires signs; petroliana including: Supertest, En-Ar-Co, Texaco,Sunoco, Fina, Veedol and others; collection of cast iron horse and buggy toys, vintage carousels, and Mecanno sets, coin banks, fishing lures; large collection of Artwork including: Gaston Rebry, D. Mallardi, Van der Velden, Abraham, Max Taylor, Michael Hoffman, and others; furniture including: harvest tables, flat to wall cupboards, wardrobes, bedroom furniture, desks, etc.; unusual items including: antique rocking horse, rare R.F. Stevens portable organ, 18th century French commode, ornate mirrors, etc.; nice selection of copper and pewterware; large selection of 10 Kt and 14 Kt gold rings, and other jewellery; large collection of '33 and '78 albums featuring jazz, classical, and pop music. Over 600 Lots up for sale!
In person preview available
Monday to Wednesday 9am to 5pm.
For all questions and enquiries please contact
Brent Shackleton, Auctioneer at 519-271-2646
or by email shack@shackletons.ca
15% Buyers Premium and 3minute soft close in effect.
www.shackletons.ca
Wednesday January 22 2020
Starts at 7:00 PM
SHACKELTON AUCTION CENTRE
51570 Lyons Line
Springfield, Ontario
8 kms north of Aylmer on HWY #73 then 5 kms east of Lyons on Lyons Line OR
14 kms south of the 401 HWY on the Putnam Rd.
(EXIT 208 BETWEEN LONDON & WOODSTOCK)

Click above for Road Map Detail!
Get directions and travel time from the Google map.

Click here for Weather!
ONLINE ONLY ANTIQUE SALE

Selling for the estate of the late
ED FETH, Country Corner Antiques, Simcoe

*****STARTS CLOSING JANUARY 22ND AT 7PM*****
Featuring over 350 lots including Merchant jugs, crocks & churns ; Rockingham, Brantford & other pottery; W.E. Cantelon paintings; oil paintings and art work; wood duck decoys; antique furnishings and early cupboards; seltzer bottles; vintage wood tools; bottles and jars; arrowheads; airplane ashtray; oil lamps; stain glass windows and much more.
Wednesday January 22 2020
Starts at 10:00 AM
43853 Southgate Road 4
Mount Forest, Ontario

East of Mt. Forest, on Southgate Rd. 04 Fire # 43853 or
Turn off Sdrd 49. Head West approximately 1/2 mile,
5th entrance way on the right (Northside).

Click above for Road Map Detail!
Get directions and travel time from the Google map.

Click here for Weather!
Mt Forest Ag Auction Co-operative
Hay, Straw, Grain, Firewood
Consignment Auction
Hay and Straw in a variety of,
round, large square or small square bales.
Various lot sizes to accommodate the demands of today's farmer.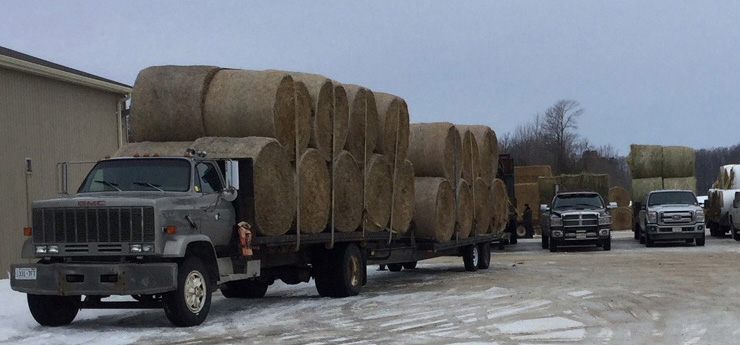 Hosting Hay & Straw Sales
the 2nd and 4th Wednesday of every month.

Accepting Consignments
Tuesday Afternoons Prior To Sale and
Wednesday up to sale time no appointment required.

TERMS
Cash Sale Day, Cheques with ID
Owners, Auctioneers, Organizers not responsible for
accidents, injury, deletions or loss of property sale day.
All verbal announcements take precedence over written material.

Loader available.

New Consigners Welcome! Call for more information.

General Manger: Stewart 519-323-2658
Assistant Manager: Elvin 519-323-1043
Sales Yard: 519-509-2828
---
3 SALES SHOWN ABOVE
THAT MATCH YOUR CURRENT SEARCH