Of Quality Trees & Shrubs

GREENVIEW NURSERY
(Maynard & Reta Wideman)
SHADE TREES: Maple trees consisting of: Sugar Maple, Autumn Blaze, Deborah, Emerald Queen, Silver, Native Red, Royal Red, Silver X Red, Prinston Gold,and Amur, Red Oak, Bur Oak, Locust, American Mountain Ash, Service Berry, Ivory Silk Lilac, Tulip Tree, Linden, Basswood, Birch, Crab Apple, Hackberry, Chantieleer.

EVERGREENS: Black Cedar, Degroots Spire Cedar, Emerald Cedar, Globe Cedar, Holmstrup Cedar, Sunkist Cedar, White Cedar, Hemlock, Larch(Tamarach),
White Pine, Blue Spruce, White Spruce, Norway Spruce.

SHRUBS: Boxwood, Dogwood, Forsithia, Honeysuckle, Hydrangea, Nineback, Pottentilla, Sandcherry, Fragrant Snowball, Spirea, Sumac, Weigela, Spreading Junipers, Upright Junipers.

FRUIT TREES: Apple, Cherry, Pear, Plum, Blackberry, Blueberry, Elderberry, Gooseberry, Grape, and Hascapberries.
Plan to attend this unreserved auction,
2019 will be the last year selling ornamental trees & shrubs.
Greenview Nursery will be focusing mostly on Spruce, Cedar, & Maple,
selling to nurseries, landscapers & homeowners.
We look forward to seeing you
to fill your needs for trees & shrubs this fall.
LUNCH BOOTH
For more information call
Maynard Wideman at 519-669-8583
To view photos visit
www.billhorstauctions.com
TERMS
Cash or cheque with proper I.D.
No debit or credit cards. No buyers premium.
Proprietors & auctioneers not responsible for
accidents, injury, or loss of purchases.
Verbal announcements take precedence over advertising.
AUCTIONEER
BILL HORST 519-595-2626
Questions about this sale?
SUBSCRIBE TO OUR AUCTION NEWS

Click Here to Visit us On-Line!
205777298 :
Saturday September 21 2019
Starts at 9:30 AM
Linwood Community Centre
5279 Ament Line
Linwood, Ontario

(west off Manser Rd.)
Click above for Road Map Detail!
Get directions and travel time from the Google map.

Click here for Weather!
Of New tools, antiques, collectibles,
household goods and miscellaneous items

for Brian Gohl
and additions
TOOLS: Huge selection of new tools (skids full) to include lots of cordless, electric, socket & wrench sets, Brad nailers, hammer drills, staplers, hand tools, etc. etc. from Dewalt, Ridgid, Mastercraft, Makita, Bosch, Porter Cable, Milwaukee, Black & Decker, etc.

ANTIQUES/COLLECTIBLES: Mahogany dining ext. table with leaves and 6 balloon back chairs, nice. Cherry bonnet chest with bird's eye maple, nice. 2 door wardrobe with drawer. Tea wagon. Parlour tables. Shaving mirror with nice carving. Blatchford Feeds large tin sign. Crocks & jugs. 2 large implement wheels. Large Robert Bateman print (eagle). Bob Berry framed duck prints (rare). Maurice Utrillo prints. Other artwork. Folk art. Old hand seeder. Milk cans. "O" gauge train set. Lanterns. Tinware. Tobacco tins. Sad irons. T. Eaton kitchen collectibles & jars. McCoy pottery. Few die cast coin banks. Oil lamp chimneys. Graniteware. Boot jack. Local calendars. Promotional items form KW & local towns. Signs. Wash stand harps. Copper boiler. Waterbury clock. Wash tub. Kitchener Westside Dairy ashtray. Shell handy oiler. Oil tins. Milk bottle collection including Sunnybrook - Waterdown, Calnan's Dairy - Picton, Baetson's Model Dairy - Wingham, Christies Dairy - Niagara, Blenheim Dairy, Walkerton Dairy, Maple Dairy, Cockerton's Dairy - New Hamburg, Pride of Durham Dairy, Kincardine Dairy, Kent Dairy, Finnegan's Dairy - Stratford, Crystal Dairy - Owen Sound, Avon Dairy, Silverwoods, Bordens Signature (amber glass), Georgian Bay, Briars Dairy - Sutton, Bells - Scarborough, Toronto, Standard Dairy, Hygenic Dairy, Citizen Dairy - Brantford, Crystal Dairy, Kingston Milk, etc. China & glass including coloured glass, Fenton, hair receivers, coloured glass, etc.

HOUSEHOLD: Apt. size freezer. Dryer. 2 matching oak corner china cabinets, nice. 3pc. single white bedroom suite. Double box spring & mattress. Roxton maple curio cabinet, hall bench, corner cupboard and coffee & end tables, all in excellent condition. Patio furniture. Bladez R300 ll recumbent exercise bike, like new. Sewing machines. Drying racks. Crokinole board. Small appliances, plus the usual household goods.

MISCELLANEOUS ITEMS: Honda HS622 track type snow blower, like new. White self-propelled 5.5 hp mower (Honda engine). Honda push mower. Pull type lawn roller. Lincoln AC/DC welder. Bench model drill press. Heavy duty battery charger. Table saw. Hand & garden tools. Cast iron butcher kettle & stand. Fishing tackle. Hardware, etc.
Note
For photos see
www.gerberauctions.net
Terms
Cash or cheque with I.D. No plastic.
10% buyer's premium.
2 ring auction starting at 9:30am sharp!
Auctioneers
Gerber Auctions Ltd.
519-699-4451 or 698-0138
2827 Hutchison Road, RR1 Millbank (Crosshill)
Questions about this sale?
SUBSCRIBE TO OUR AUCTION NEWS

Click Here to Visit us On-Line!
205699557 :
Saturday September 21 2019
Starts at 10:00 AM
Preview As Noted In Ad
CREEMORE ARENA
218 COLLINGWOOD STREET
CREEMORE, ONTARIO

Click above for Road Map Detail!
Get directions and travel time from the Google map.

Click here for Weather!
ANTIQUES, ART, COINS AND COLLECTIBLES.
LIVE & ON-LINE AUCTION
PREVIEW
FRIDAY SEPTEMBER 20TH FROM 3-6 PM.
IF YOU CAN'T ATTEND IN PERSON
BID WITH CONFIDENCE VIA
WWW.ICOLLECTOR.COM
Featuring many, great treasures from a large number of consignors.
Many thanks to all!! This is just a sample of all the treasures.
Visit our website OR iCollector for more.
There will be new items listed as the auction date approaches.
Terms
Cash, debit; chq, visa, MC.
No buyer's premium.
It's never too late to be a consignor.
Call, Text, or Email Anytime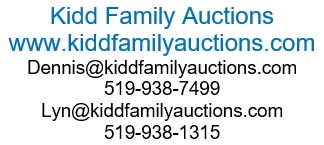 Questions about this sale?
SUBSCRIBE TO OUR AUCTION NEWS

Click Here to Visit us On-Line!
205435125 :
Saturday September 21 2019
Starts at 10:00 AM
1010 Hutchison Road
Wellesley, Ontario

Click above for Road Map Detail!
Get directions and travel time from the Google map.

Click here for Weather!
for Gerald and Bernadette Jantzi
Highlights include: Massey Ferguson 2085 tractor; small farm machinery;
shop equipment; lawn and garden tools; welders; hand and power tools;
household effects; and miscellaneous items.
Tractor; machinery; miscellaneous items: MF 2085 tractor with 3pth; good rubber; 3pth corn scuffler; 3pth snow blower; 5ft 3pth finishing mower; homemade trailer with new decks and rims; Simoniz pressure washer; hand post hole digger; 3pth scraper blade; Stihl MS 290 chain saw; screwdrivers; wrenches; socket; bikes; lawnchairs; waterhoses; bottle jack; floor jack; sump pump; lawn and garden; patio set; 14 foot fibre glass boat as is; metal with combination safe; metal workshop shelf; Echo leaf blower; acetylene torches with new tanks owned; Air Boss 5hp air compressor; Lincoln 225 welder; welding helmet; table; and accessories; 30 ton press; Westword drill press and stand; cant hook with handle; heavy duty vise; Poulan electric chain saw; pipe clamps; LCD multimeter; Makita grinder; Makita jig saw; Simoniz pressure washer; 220v generator; vise grip welding clamps; battery charger; grinder; microfurnace; battery load tester; tool chest on wheels; pipe bender; forced air heater; compression tester; Magnedo's and magnedo stand; draw bars; comealong; pipe wrenches; die; grinders; variety of motors; chain binder; quantity of chains; grease guns; winch; flood lights; floor jacks; step ladders; large quantity of Makita and Dewalt power tools; impacts; air tools; air hoses; gauges; verniers; wheel barrel; wheels; fishing poles; Coleman camping stoves; gas cans; bikes; lawn chairs; hydraulic jack; sump pumps; tarps; variety of plumbing and electrical supplies and fitting; quantity of hand; and lawn and garden tools.

Household effects: 5 piece bedroom suite (queen bed; dresser with bookshelf mirror; chest of drawers; 2 night tables); fridge; file cabinet; antique Coca Cola cooler; couch; single bed; oak coffee and end tables; bookshelf; maple table and 6 chairs; curio cabinet; Mechanix Illustrator books; couch; love seat; and many other household goods.

Note: an exceptional well kept clean auction, Gerald was in the automotive electrical repair business for many years; property is sold. Cash, cheque, and debit.
Watch our website for a full list.
Questions about this sale?
SUBSCRIBE TO OUR AUCTION NEWS

Click Here to Visit us On-Line!
204828306 :
Saturday September 21 2019
Starts at 10:00 AM
6780 Holden Road
Oldcastle, Ontario

From Essex County Rd 8 between Walker Rd. & Howard Ave.,
take Holden Rd north to farm.
Click above for Road Map Detail!
Get directions and travel time from the Google map.

Click here for Weather!
A JACK MORRIS
Farm Machinery Auction Sale
For Gilbert GyoriOldcastle, Essex County, Ontario

Sale will be held at Mr. Gyori's farm

More photos at
www.jackmorrisauctions.com
No Reserve.

Note
This is an exceptionally clean, well looked after,
stored inside line of farm machinery.
Tractor: International 886 diesel, 3900 hours, cab, 18.4x34 rear tires, two outlets, 2 speed PTO, tractor is in mint condition, one owner purchased new in 1980;

Duals: 18.4x34 T-rail duals;

Planting: Kearney planter as described when purchased in 2004 -John Deere 7000 series 6 row narrow Maximerge corn planter complete with new 2000 series Kinze row units, dry fertilizer boxes, double disc openers, brush metre (blue & black) , finger pickup, Keeton seed firmer and Computer Trak 100 with power module, has planted 1103 acres since purchase and is in mint condition; IH model 510 - 16 run grain drill with pull behind covering chain;

Sprayer & Water Tank: Hardie TL300 - 45' boom, 300 gal tank, purchased new in 2004, completely winterized, has sprayed less than 2000 acres, has 4 sets of tips with 1303 Hardie diaphragm pump, chemical inducter & 10 gal foam marker unit; 500 gal plastic water tank;

Wagons - 2 -500 bu: two Derynck 500 bu gravity wagons, duals all around, both with roll tarps, one with lights; two Turnco model 225 gravity wagons; small gravity for seed;

Tillage: 18'6" Triple K pull type cultivator with roller harrows: Triple OK 4 furrow spring reset plow, new points & real good mouldboards; 20' - 3 section sprocket packer will sell as one unit; 14' IH wheel disc with good blades; 15' foldable land leveler;

Auger, Grain Cleaner, Rotary Hoe, Cultivator, Chopper: Feterel model 85 grain cleaner with 2 HP motor; Farm King model 731 PTO auger; 6 row 2 ph 30" Triple K cultivator; 4 section pull type rotary hoe; 5' pull type Mohawk chopper;

Machinery Trailer: double axel trailer with 16' bed and Marshall 8-14.5 tires;

Grain Bin & Accessories: 2200 bu. grain bin, aeration floor, 2 HP motor; selling separate will be the sweep auger and approx. 50' electric cable;

Snowmobile: Everest model 340, good body & seat, needs new carburetor;

Other Items: 3 spare tires on rims for 500 bu. wagons; other tires; tarps; platform scale; plus a few other misc. items.
Note
Very few miscellaneous items. This will not be a long sale.

Terms
Cash, debit, personalized cheque day of sale.
Visa, MC with 3% premium.

Proprietor
Gilbert Gyori
519-737-6787

For info call Vince
519-737-1183 (home) ~ 519-996-3727 (cell)

Auctioneer
Jack Morris
519-687-2530 or 1-800-462-3561
Questions about this sale?
SUBSCRIBE TO OUR AUCTION NEWS
Click Here to Visit us On-Line!
204742262 :
---
6 SALES SHOWN ABOVE
THAT MATCH YOUR CURRENT SEARCH