A DAVE MCCORMICK
*AUCTION SALE*
FOR LOWRY STONE
PLEASE NOTE
THE FOLLOWING ITEMS HAVE BEEN REMOVED FROM THIS SALE
The Harley-Davidson stools and the bike seat stool and the ATV
LOWRY STONE PROPERTY:
HONDA 2018 Pioneer 700 ATV 1981 km. Extension and Step Ladders, Aluminum saw horses, Masonry Diamond Saw Blades, Coleman 10' x 10' sun shelter, pick axe, garden hose, fiber glass step ladder, masonry saw, stone rake, "Uro Lift" pallet lift, Home Light, XL76 chain saw, 2 Wheel Barrows, Masonry Trowels and Levels, STIHL Rechargeable Weed Eater, Cub Cadet LTX 1045 riding lawn mower, w/hydrostatic drive, 3 sheets 4'x 8' new white puck board, clay chimney flue's, 1500 lb, capacity hydraulic lawn mower jack, assortment of good wrenches, lots of miscellaneous tools, Harley Davidson Stools, Motorcycle Seat Stool, Logging Chain, Makita Hand Grinder, Small Chest Freezer, Simonize 2000 PSI Electric Pressure Washer, CM Masonry Chop Saw, Shovels, Forks, Rakes, Extension Cords, DeWalt Mortar Mixer, Roof Jacks, BOSCH Chisel Hammer, Nylon Safety Harness, Model Cars, Heavy Duty Ratchet Straps, Mortar Bags, Tree Limb Trimmer, Chain Binders.

OTHER CONSIGNERS:
Teeswater Cream Can, Lucknow Cream Can, Round Dining Room Table w/2 leaves, (5) Yardsticks, Clock - 31 day Tempus Digit (needs repairs), Saw Blade, Genuine Lane Cedar Chest, Apple Box "Property of R. Adriel Bros" Thornbury, Ontario, Large Assortment of Very Old Records, Antique Table w/cat claw glass feet, brass horn, Old Brass Horn w/Rubber Bulb, Brass Gasoline Torch, Coal Skuttle/Ash Shovel, Purity Dairy Milk Crate Elmira, ON, Antique Spud & Tools, Wooden Box (Collectable), Hall Tree, Chesley Creamery Egg Box, Aladdin Lamp, Coal Oil Lamp (2), Box Picture Frames, Crown Sealers & Lids, Assortment Pop Bottles/Medicine Bottles, 4lb Honey Tin, 3 gal Crock, 4 gal Crock, 8 gal Crock, Hand Meat Grinder, Hand Vegetable Grinder, 2 small wall tables, Galv. Water Trough, Wooden Lamp, Milk Strainer, Fern Stand (Cane Sided), Sun Dial, Horse Tie Weight, Hunters Horn, Miscellaneous Stuff, Wicker Fern Stand, World Globe. Moto Master Battery Charger, Campbell Hausfield Air Powered Brad Nailer, Assortment of Sockets & wrenches, Propane Torch, Drill Sharpener, Gas Master 38cc Chainsaw, Lg Quantity of Hand Tools, Hi-Impact Socket Set, Ceramic Tile Cutter, Tor Electric Rake & Vac Leaf Blower, Asphalt Sealer, Air Hose on Reel, Mechanic's Bench on wheels, Rockwell Blade Runner X 2, Master Craft Table Saw, Large Tool Box (grey), Jerry Cans, Salt Dogg Laneway Salter, Black & Decker Radial Arm Saw, Workshop Halogen Light w/stand, Yard Machine 20" Gas Push Mower, Master Craft wire fed welder, vise on stand, Yard Works Wheel Barrow, 2 small chain-link garden gate, Lawn Roller (36")Pull Type, Workmate work bench on stand, Smyth Gas Powered Lawn Sweeper (New) 44" with manual (Model S44TB), Self propelled Lawn Roller 36", 9hp Robin Subaru Motor, Chain Drive, Box Halogen 90 Watt bulbs, Hydraulic Press Frame, Tank Mount Propane Heater , Yard Man Leaf Blower Vac, Bench Model Vari. Speed Drill Press, Steamer Trunk, Coleman Camp Stove, Master Craft Air Compressor, Shop Vac, Grinder Buffer on stand, Gas Powered 6" Ice Auger (as is), Craftsman Laser Chop Saw, Power Cord on Reel, Misc. Tools.
Miscellaneous Items too Numerous to Mention

Please check the web for listing and color photos

TERMS AND CONDITIONS
Terms are cash or personalised cheques with proper ID on sale day.
Owners and auctioneer are not responsible for
accidents, injury or loss of items on sale day.
Verbal announcements take precedence over all written material.
Sale is subject to additions or deletions.
NO BUYERS PREMIUM

FOOD BOOTH

Sale conducted by McCormick's Auction Service
Dave McCormick, Auctioneer, Ph. 519-359-0202
www.mccormicksauctions.com
Questions about this sale?
SUBSCRIBE TO OUR AUCTION NEWS
Click Here to Visit us On-Line!
192172800 :
Saturday April 20 2019
Starts at 10:00 AM
Preview As Noted In Ad
CREEMORE ARENA
218 COLLINGWOOD STREET
CREEMORE, ONTARIO

Click above for Road Map Detail!
Get directions and travel time from the Google map.

Click here for Weather!
THE COLLECTORS EVENT!!
KIDD FAMILY AUCTIONS PRESENTS
THE TRIP DOWN MEMORY LANE AUCTION

DUE TO THE FRIDAY HOLIDAY
PREVIEW THURSDAY APRIL 18TH 3 - 6 PM
FEATURES: Treasures From The Old General Store Where You'D Pull Up In Your Classic Vehicle, Get Some Gas, Buy Your Groceries And A Toy For The Kids. You Might Even See The Doc In His Buggy. Approx 400 Lots For The Collector. Tin & Porcelain Signs, Gas & Oil Tins, Mini Oilers, Tin & Cast Toys, Advertising Crates, Coffee Grinders, Black Americana Items, Etc. You Could Drive Away In A Candy Apple Red 1969 Ford Pickup. Go For A Spin In A 1965 Ford Galaxie 500 Convertible. Head To The Job In A 1947 Ford 1 Ton Wrecker!! Or Hook Up The Horses To The Doctors Buggy And Grocery Delivery Wagon. We'Ve Got What Every Collector Needs!!
JOIN THE EXCITEMENT LIVE AT THE CREEMORE ARENA
OR STAY PUT AND BID VIA

YOU CAN CALL, TEXT, EMAIL FOR ABSENTEE BIDS.
THESE PHOTOS ARE JUST A SAMPLE.
SEE WWW.iCOLLECTOR.COM FOR FULL CATALOG.
NO BUYERS PREMIUM. SHIPPING AT COST.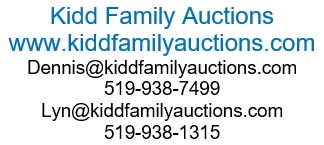 Questions about this sale?
SUBSCRIBE TO OUR AUCTION NEWS

Click Here to Visit us On-Line!
190705591 :
Saturday April 20 2019
Starts at 10:00 AM
Preview 8:30 AM
Pine Knot Golf & Country club
5421 Hamilton Road
Dorchester, Ontario N0L 1G6

Click above for Road Map Detail!
Get directions and travel time from the Google map.

Click here for Weather!
SPORTSMAN SPRING FEVER
FIREARMS AUCTION
FEATURING: Collectible and field ready Rifles, Shotguns and Crossbows. Also including gun safes, re-curved bows, a large selection of ammunition, Weaver base mounts and scope rings, lots of parts and accessories and more!

Firearms:
.22 cal. LR, single shot bolt action, Sport .22 cal. LR, single shot bolt action,
C.R. Enfield, .303 cal., 1915, Sht L.E. III,
BSA co. Lee Enfield, .303 cal. sporting rifle, 1916, Sht L.E. III
Stevens 12ga. MDL:770
Cooey .22 cal. S,L,LR, MDL:60
Winchester .22 cal. S, L, LR, pump MDL:62A
Mossberg 410ga., MDL:183DG
Winchester 12ga. Pump, MDL:1200
Remington Wingmaster 12ga., MDL 870
Ruger .22 cal. LR, Semi Automatic, MDL:10/22
Marlin Papoose .22 cal. LR, Semi Auto, MDL:70P
Winchester USA Bicentennial '76, 30-30 cal., MDL 94
Winchester Canadian Centennial '67, 30-30 cal., MDL:94
Parker Hale 270 cal.
Winchester .308 cal. WIN, Lever action, MDL:88
Mossberg .22 cal. LR, MDL:342K
Browning 7mm cal., REM MAG only, Semi Auto
Remington Woodsmaster .308 cal. WIN, Semi Auto, MDL:742
Browning 300 cal. WIN MAG only, Stainless Steel Bolt

Excalibur Phoenix Crossbow
Recurve Bows
Winchester and Daisy air guns
Honeywell and Protector Gun Vaults (14 guns)
Gorilla tree stand
British Mk III tri-pod gun rest, from WWII
British No. 4 Mk II Bayonets

Ammunition:
Large quantity of .22 cal.
12, 16, 20 & 28 ga.
30-30, 30-06, 7mm, 270, 300, 222, 223, 38-55, 38, 38SP, 35, 35SP, 338.
Winchester, Dominion and Western collectible ammo boxes
Quantity of .177 pellets and BB's

Large quantity of reloading brass
Quick-N-EZ Case tumbler, Lymam Tubro 600 Tumbler
Parts & Accessories:
Weaver mounting bases and scope rings;
Winchester, Remington, Cooey and British magazines;
Winchester and Cooey barrels;
cleaning kits, Bushnell Bore sighters,
Parts organizers including, scope rings and mounts, sling swivels and mounting screws, front and rear open sights, cleaning brushes and powder measurers.
Remington and Daisy scopes,
Remington Bullet Knife framed prints,
Winchester and Ruger Firearm and Pistol books.
Trigger locks, Black powder tins, Leather holsters, ammo belts, slings,
Winchester double sided sign.
Soft and hard gun cases.
Firearms and selected items will be cataloged
and available for live online bidding.
ADVANCED BIDDING OPENS
Friday March 29th at 6:00pm.
TO VIEW CATALOG, REGISTER AND BID, GO TO:
www.jwauctions.ca
Terms
Valid P.A.L. must be presented to purchase firearms or ammunition.
Cash, Debit, Visa, and M/C.
10% buyer's premium at auction
13% buyer's premium for on-line buyers
Lunch booth.
Auctioneer
Jon Wilson
519-476-7299
Questions about this sale?
SUBSCRIBE TO OUR AUCTION NEWS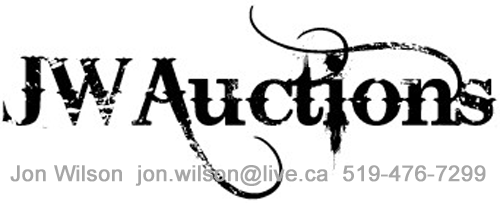 Click Here to Visit us On-Line!
190027416 :
Saturday April 20 2019
Starts at 10:00 AM
UXBRIDGE SALES ARENA
720 Davis Drive
UXBRIDGE, ONTARIO

Approx 23 km east of 404 or 1.6 km west of Hwy 23.

Click above for Road Map Detail!
Get directions and travel time from the Google map.

Click here for Weather!
ANTIQUES, FURNITURE & COLLECTIBLES
Our Annual High End Easter Sale

Estates from Uxbridge, Port Perry,
Lifetime Collector Bradford, Brechin
VIEW OUR GALLERY OF 219 PHOTOS AS A SLIDE SHOW
1 or MorePhotos Added Thu Apr 18 06:15:38 EDT 2019
ITEMS ADDED APRIL 15: Circa 1850 Empire Parlor Chesterfield Lions Paw Craved Feet Front & Back Mahogany, Walnut Bed w Sides Ball and Claw Feet, Scandinavian Teak Bed Room Suite Queen Bed Tall Boy Dresser Mens Highboy,Brass Fireplace Fenders,3 Orig Chandler Chalk Pastel Framed Scenes, Signed Trish Romance, Circa 1850 Canadian Flat to the Wall Pine, Chandelier, Brass and Copper Weigh Scale, Jacques & Hayes Carved Rocking Chair,Lrg Copper Kettle, 1940's Nickel Candlestick Lamps, Ant Dough Box w Drop Front Door Dark Walnut, Press Back Chairs, Vintage Outdoor Lighting, Lrg Qty Vin Tins, Ant Scale, Copper Boiler,JC Watson Wooden Box, Dough Board, Ant Childs Seat, Ant Sec Desk, Needlepoint Chairs, Ant Mirrored Hall Tree (EX), Ant Sideboard Curved Glass Sides (EX),Ant Ice Box, Gingerbread Clocks, Barristers Bookcase (4 Shelf), Red Indian Metal Cupboard, Red Indian Motor Oil Sign/Stand, Crock Stoneware Medicine Hat, Homestead Ringer Ex Stencils, Ant Corner What Not Shelf, Vin Linens, Partial Set Limoges, Vintage Post Cards, Qty Framed Prints/Paintings,Chuckwagon Lamp, Vin Purses, Royal Doulton Cups & Saucers, Royal Doulton "Bess & Rachel", Finger Crocks, Pine Carpenters Box.
ANTIQUES & FURNITURE:C 1870 English Mahog Table,Ant Credenza,Gibbard Bed Room Suite,Hoosier Complete (EX), Ant Dbl Pedestal Oak Table, 2 Press Back Chairs, 1X 12 Pane Pine Sideboard, 1920's Dark Single Bed, ¾ Brass Bed,Ant School Desk, Oak Press Back Rocking Chair, Boston Rocker, Cannonball Bed, Highboy Dresser Dark Pine, Washstands,Needle Point Furniture,Carriage RunaBout,more to list.

COLLECTIBLES: Vin Hockey Game, Lrg Copper Pot, Vin Train Set, BA Cooler, BA Moores Garage 1945 Calendar (EX), Qty Ontario Milk Bottles,Soapstone Figurines, Vin Sled, Red Buck Saw, Yoke, 2 Person Saw, Vin Snowshoes, JC Watson Apple Box, Homestead Wringer,Bread Board, Wash Boards, 1940/50/60 Hockey Table Games, Ant Oil Lamps, Mantle Clocks, Gingerbread Clock, Vin Duck Decoys, Crock, Coffee Grinders(3), Sad Irons, Qty Vin Tins/Bottles, Vin Water Test Kit, Quilts, more arriving.

CHINA/GLASS: Noritake Dishes Set, Mothers Day Roses Set Dishes, Qty Crystal Wine/Port/Liquor, Qty Chelsea Burg China,more to list.

MISCELLANEOUS: Ladys 14Kt Yellow Gold Cluster/Diamond Style 3 Leaf Clover Pendant/Brooch.
Subject to Additions& Deletions

Terms
Cash Debit Visa MC Approv Cheque
10% Buyers Premium

GARY HILL AUCTIONS
garyhillauctions.ca
905 852 9538
garyhauctions@sympatico.ca
Questions about this sale?
SUBSCRIBE TO OUR AUCTION NEWS

Click Here to Visit us On-Line!
187675682 :
---
17 SALES SHOWN ABOVE
THAT MATCH YOUR CURRENT SEARCH