A Gerber Antique Auction Sale
for Ed and Sue Herringer, Paradise Lake, and additions

Of Primitives, textiles,
pottery, furniture, china & glass, etc.
TO CONSIST OF: Pine 12 light, 2 door flat wall cupboard, 3 lap drawers. 2 dr. flay wall cupboard with nice carving. 7ft. tall, 1 piece wooden cupboard (pie safe). Oak china cabinet (bowed front and sides). 50's chest of drawers. White mirrored cabinet. Red tin cupboard. Ice cream parlour type table & 2 chairs. Tea wagon. Custom made cherry floor lamp. Kuntz beer trays, coasters and blotter. Blue Top blotter. Huether & Kuntz wooden stenciled boxes. Piel's beer tray. Kuntz bottles. Small child's chair with woven seat. Small wall cabinet. Wooden stool. Early child's wooden pull cart. Wooden riding horse. Selection of redware pottery plus other crocks & jugs. 10 pieces of Brantford Pottery (funnels, glazed pitchers, vase, etc.). Rockingham. Indian beads. Ironstone. Chalkware sconces. Majolica plates. Wooden carved ducks. Beaver jars. Underwood typewriter. Shadow box with ship. Old windows, shutters & garden ornaments. Metal lighting. 2 traffic lights. Tiffany style hanging lamp - good. Cast iron doorstop. Sad irons & trivets. Victorian candle lantern. Stenciled boxes. Tinware. Dolls & wooden cradles. Lithographed tin train with track. Train magazines. Vintage space shuttle post cards. Wooden log cabin building set. Team and carved wagon (2). 1930's teddy bears. Board games. Old candy containers. Early egg carton machine. Egg scales. Egg candling light. Wooden egg crates. Railway & other lanterns. CNR tin cup. Christmas ornaments. Milk bottles (Cockerton, Purity Dairy, Foremost Dairy, Silverwoods Cream top, etc.). 30 plus yardsticks (local merchants). Hay fork. Cant hook. Wooden golf clubs. Wire top and other jars. Marbles. Sewing basket on legs, pin cushions & other sewing supplies. Quilts (Dresden plate, Lone Star, Bear Paw, Colonial lady, etc.). Quilt blocks/tops. Hooked rugs, tablecloths, aprons, vintage women/children's clothing, handmade lace, tatting, etc. Sealskin boots. Kitchen collectibles. Toronto Maple Leaf sign. Miniature coloured oil lamps. Local calendars (New Dundee Creamery 1957, S.B. Roth 1959, C.L. Roth 1949, etc.). A. Hertel, Berlin walk-in cooler hardware. Assorted baskets. Windup clocks. Dresser sets. Emma Kaufman "Paradise Lake" painted on tin. Prints (George Eitel, Anderson, and Herchenrader). Inuit soapstone carvings. Folk art work on wood panel. Beatles memorabilia. Books (3 - 19th century Mennonite song books - 1 Berlin CW 1857, also Waterloo illustrated Histories, Woldemar Neufeld, Jackson & Day Antiques book, Time-Life - American Country History Series, etc.). Fountain pens. China & glass (Staffordshire dogs, Bunnykins, flo blue plates, flo blue cup & saucer, Royal Crown Derby, mustache cups, mixing bowls, depression glass goblets, Charlotte Read pitcher, Shelley cups/saucers, pressed glass compote, carnival glass, sugar shaker, perfume bottles, etc.). Household including foosball table, single bunk beds, bar fridge, etc.
Note: An early season highlight!
For Photos See
www.gerberauctions.net
Terms
Cash, debit or cheque with I.D.
10% buyer's premium.
Auctioneers
Gerber Auctions Ltd.
519-699-4451 or 698-0138
2827 Hutchison Road
RR1 Millbank, Ontario
(Crosshill)
Questions about this sale?
SUBSCRIBE TO OUR AUCTION NEWS

Click Here to Visit us On-Line!
184141745 :
Saturday January 05 2019
Sale Starts At 10:00 AM
Preview As Noted In Ad
CREEMORE ARENA
218 COLLINGWOOD STREET
CREEMORE, ONTARIO

Click above for Road Map Detail!
Get directions and travel time from the Google map.

Click here for Weather!
A KIDD FAMILY AUCTION
THE COLLECTORS EVENT!!
A NASCAR EXPLOSION!!
KIDD FAMILY AUCTIONS PRESENTS
THE GAS, OIL & TOY MEMORABILIA SALE
PREVIEW FRIDAY JANUARY 4TH 3PM - 6 PM
FEATURES: APPROX 400 LOTS FOR THE COLLECTOR. TIN & PORCELAIN SIGNS, GAS & OIL TINS, MINI OILERS, TIN & CAST TOYS, NASCAR ITEMS, ETC.

RED INDIAN, RELIANCE, SUNOCO, CANADIAN TIRE, SUPERTEST, MAPLE LEAF, COKE, PEPSI, TEXACO, SNAP-ON, CASTROL, IRVING, JOHN DEERE, MINN, LINCOLN, ERTL, GULF, FORD, WHITE ROSE, DELAVAL, GOOD YEAR, PENNZOIL, CITIES SERVICE, BA, EN-AR-CO, CO-OP, HUBLEY, TONKA, MCCULLOCH, ETC
JOIN THE EXCITEMENT LIVE AT THE CREEMORE ARENA OR
STAY PUT AND BID VIA WWW.iCOLLECTOR.COM
OR CALL, TEXT, EMAIL FOR ABSENTEE BIDS.
THESE PHOTOS ARE JUST A SAMPLE.
FOR FULL CATALOG SEE
WWW.iCOLLECTOR.COM
Call, text or email anytime!!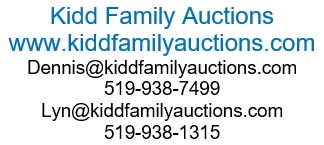 Questions about this sale?
SUBSCRIBE TO OUR AUCTION NEWS

Click Here to Visit us On-Line!
181859033 :
---
3 SALES SHOWN ABOVE
THAT MATCH YOUR CURRENT SEARCH