For Davis & Patricia Low
(retiring from housekeeping)
1990s 34' Chevrolet Bounder by Fleetwood motor home. 79,793 kms . Sleeps 6, shower, sink, toilet, propane fridge & stove, microwave, slide out, on board generator, 2 roof top air conditioners, awning, propane furnace, VIN# 1GBIP37JXW3308670 - as is.

1976 GMC motor home, approx. 25', front wheel drive, fridge, stove, microwave, toilet, sink, sleeps 4, awning - as is.
1970s fibreglass Aquarian bow rider tri-hull on trailer with 80hp Mercury - as is.
1970s rolling Volkswagen beetle chassis - no motor.
16' 1970s cutter, inboard/outboard Volvo Penta engine on trailer.
1970s Volkswagen Beetle parts car. 1971 Volkswagen Beetle parts car, 1970s Volkswagen parts engines.
1990s Cadillac Northstar V8 parts engine.
2002 GMC 4X4 extended cab Sonoma SLS truck - as is.

Cub Cadet 24" (2011) gas snow blower m#71124C, 2 gas weed eaters, vintage commercial Gardner - Denver air compressor, electric motor, small electric wood splitter, chain fall, 3 parts bikes, various vintage Volkswagen parts, various vintage Ford parts & manuals, engine lift, 2-1950s Ford Flathead V8 engines, 16' Langford fibreglass canoe, Mastercraft gas lawn mower for parts, older mobile sign on trailer, Coleman Powermate 5000watt gas generator, aluminum extension ladders, large commercial air compressor, Buckeye blaster, 10 - 12 pairs of jack stands, vintage rolling engine stand, Craftsman 42" 20hp v-twin heavy duty LT1000lawn tractor, Acorn electric stair lift, hydraulic floor jack, Lincoln 155 mig welder, set of oxyacetylene tanks & accessories, Beaver floor model drill press, large assortment of mechanical tools, Exocet Excalibur cross bow with Bushnell scope, large assortment of hardware, hydraulic lift, various paint sprayers, Mastercraft mitre saw, box of clay pigeons, Kerosene heater, Craftsman rolling tool chest, body work tools & supplies, creeper, bench grinder, plastic garden trailer. Leather loveseat & chairs, electric lazy boy chair, upright apartment size Thomas piano with bench, various books, solid oak Queen size 5pce bedroom suits - dresser with mirror, door chest, 2 night stands, bed. Weslo Cadence 860 treadmill, like new Noma 8000btu window air conditioner, vintage parking meter, Coleman propane stove, newer Masterchef bar fridge, Stack-On metal gun cabinet, 4 drawer metal filing cabinet, Invacare Tracer SX wheel chair, pair of snow shoes, 3 - 4 person tent, walker, wooden desk, 2 Coleman lanterns, Koolatron ac/dc mini cooler, Woods 18cu ft upright freezer.
Ladies & gentleman plan to attend this auction sale

TERMS
Cash, debit, Visa, M/C, NO buyers premium.
Removal day of sale, except vehicles.
Auctioneer/Warehouse owner are not responsible for any public
liability, accident, theft, or loss in connection with this sale.

Food cart

NOW BOOKING ON-SITE AUCTIONS YEAR ROUND - COMPETETIVE RATES!
Considering having an auction?
Call today for our full services private consultation on all of our auction services.
Providing excellence in customer service since 1980, 38 years.
Proud to be a Member of The Auctioneers Association of Ontario

KEITH MONK AUCTION SERVICE
(705) 875-1184
Questions about this sale?
SUBSCRIBE TO OUR AUCTION NEWS
Click Here to Visit us On-Line!
166172070 :
Saturday June 16 2018
Sale Starts At 9:30 AM
417 Waterloo Street
New Hamburg, Ontario

Click above for Road Map Detail!
Get directions and travel time from the Google map.

Click here for Weather!
Of Shop Equipment, Tools, and Parts Inventory
to be held for
RUDY HELDS PERFORMANCE
TOOLS & EQUIPMENT: free standing lighted 10'x3' double faced sign on steel bolt on T stand, 13' height; 9000lb USA hoist; transmission jack; 22.8 amp air compressor; band saw; cut off saw; steel press; sand blaster; Miller Maxstar 150STL tig welder; engine stands; air impact guns; torque wrenches; crank pullers; rivet guns; tool boxes; jack stands; sanders; air hoses; impact sockets; assorted tools; soldering gun kits; verniers; micrometers; tire racks; test equipment; shop creepers; security mirror; battery charger; shop manuals; vehicle specific manuals.

PARTS: chrome wheel nuts; mag wheel nuts; headlight bulbs-Cibie, Wipac, Wagner, Phillips; seat covers; car bras; headlight covers; license frame backup alerts; tow ropes; Camero 1967 fiberglass fenders; rain guards; oil; silicone tubes; spray paints; cleaners; engine additives; oil filters; piston rings; valve covers; valve springs; timing chains; rocker arms; push rods; expansion plugs; cam & lifter kits; fuel pumps; calibrators; clutch release bearings; transmission kits; brake pads; brake shoes; brake repair kits; master cylinders; chrome rear end covers; shocks; spark plugs; wheel dust covers; tow mirrors; mud flaps; wheel spacers; header/exhaust gaskets; engine blocks; cylinder heads; crankshafts; intake manifolds; connecting rods; pistons; harmonic balancers; tonneau cover; bed liner; carbon fibre dash; side bed caps; bed rails; hood shields; many more items too numerous to mention.
Plan to attend, many useful items.

Rudy Helds Performance
has been in business for 47 years and are relocating.

LUNCH BOOTH

For more information call 519-662-2821 (during business hrs)
Mon-Fri 9:00 a.m.-6:00p.m., Sat 9:00-12:00 noon

To view photos visit
www.billhorstauctions.com

TERMS
Cash or cheque with proper I.D.
Auctioneers & proprietors are not responsible for
accidents, injury, or loss of purchases.
Verbal announcements take precedence over advertising.

AUCTIONEER
BILL HORST-MILLBANK 519-595-2626
Questions about this sale?
SUBSCRIBE TO OUR AUCTION NEWS

Click Here to Visit us On-Line!
164175301 :
Saturday June 16 2018
Sale Starts At 10:00 AM
DUNDALK ARENA
550 MAIN STREET E
DUNDALK, ONTARIO

PLENTY OF PARKING!!
Click above for Road Map Detail!
Get directions and travel time from the Google map.

Click here for Weather!
MURRAY'S MASSIVE MOVE !!

KIDD FAMILY AUCTIONS IS THRILLED
TO BE PART OF MURRAY'S MASSIVE MOVE!!

THIS WILL BE A LARGE, RARE
CAST IRON SEAT COLLECTORS AUCTION
Auctioneer's Comments: After Collecting For Many Years Murray Sheardown Has Decided To Offer Up His Collection Of Over 70 Rare And Unusual Cast Iron Seats. But That Isn't All. Murray Has Oil Memorabilia, Antique Tools, Antique Farm Related Items, Cast Bells And So Much More. Anyone That Knows Murray Knows How Much Of His Heart Has Gone Into Collecting. We're Happy To Be Able To Help Him Now That The Time Is Right To Downsize.
A FULL LINE OF PHOTOS WILL BE AVAILABLE ON OUR WEBSITE SOON.
SAVE THE DATE!!
NOTE: NO BUYERS PREMIUM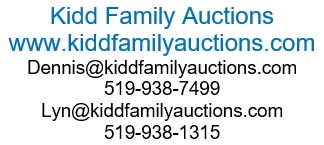 Questions about this sale?
SUBSCRIBE TO OUR AUCTION NEWS

Click Here to Visit us On-Line!
161294441 :
---
5 SALES SHOWN ABOVE
THAT MATCH YOUR CURRENT SEARCH